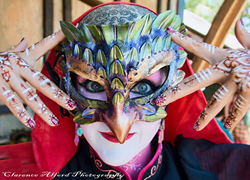 Irwindale, CA (PRWEB) May 14, 2015
Welcome to the World of the Renaissance! Where Fantasy Rules! RENFAIR.COM
Rated in the top ten "Family Friendly Events" in the nation, the final two days of the Renaissance Pleasure Faire is upon us. Don't miss the opportunity to celebrate Elizabethan England with the 1600 performers in the village. Join us to relish in the Faire's finest offerings of merchants selling their hand-made and very unique wares and food of traditional England: Toad in the Hole, Scotch Eggs, Fish and Chips and of course, Turkey Legs! ...along with specialty items such a Bacon Wrapped Asparagus, Oyster Shooters, Cajun Frog Legs and Chocolate Dipped Bacon. There are vegetarian and vegan delights as well.
Don't miss our amazing shows by world class actors and performers including acrobats, belly dancers, comedians and, of course, The Jousters! Sir Francis Drake, Mayor Barnibus Bliss and Queen Elizabeth, herself, are on hand to offer a welcoming embrace to the city of Deptford. Fulfill the desire one last time, to belt out favorites with the Merry Wives of Winsdor, the World Renowned Poxy Boggards and the riotous, Dread Crew of Oddwood.
For this season's final weekend, the Renaissance Pleasure Faire will host Local and Regional, Home and Craft Brewers. Guests are welcome to participate in educational demonstrations while sampling hearty concoctions.
Queen's College invites Faire visitors to learn historic arts and crafts in our port village. Master artists, artisans, and traders teach their crafts in workshops to adults, teens, family groups, and children. Workshop students receive supplies and tools needed to make their own keepsakes, and some will have kits to continue working on at home. Fees are low ($3 to $25) with the average $10 since we are under the auspices of a nonprofit educational organization. Most workshops will be about 45 minutes. If time is important to you, it is possible to pre-register at the College to guarantee a seat at a later workshop. Immerse yourself in the craft of the era.
The Renaissance Pleasure Faire will be partnering with Stella Artois in their Buy a Lady a Drink Campaign. Patrons will have the opportunity to purchase 3 different designed chalices representing a different country: India, Honduras and Ethiopia. Every chalice sold provides 5 years of clean drinking water for one person in the corresponding country. Women of these countries, may spend as much as 21 hours a week collecting water for the family, our efforts will help to relieve their burden. Join us to support this event and Buy a Lady a Drink.
Check-in at the Renaissance Pleasure Faire on Facebook or Yelp and receive a $3.50 coupon on the spot valid for admission into the Faire! Tickets can be purchased at the box office, on the website or at local Walgreens stores. RENFAIR.COM