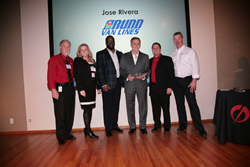 (PRWEB) May 05, 2015
Move Management, Inc., the global mobility administrative division of Graebel Relocation, has honored Jose Rivera, a Budd Van Lines' interstate household goods driver, with its inaugural, Driver of the Year award. This special award presentation took place during the recent awards ceremony at the Move Management Third Annual Partner Summit.
David Budd, Sr. chairman and chief executive officer of Budd Van Lines accepted the Driver of the Year Award on Rivera's behalf from Steve Smith vice president of operations Move Management, Inc. The Summit brought together 80 moving industry leaders from the Move Management U.S.-based supply chain network of moving services companies on April 14 and 15 at the company's world headquarters in Denver, Colorado USA.
In addition, Budd Van Lines was the third-place recipient of the Household Goods – Division I Quality Partner Award.
About Move Management, Inc.
Founded in 1996, Move Management, Inc., is the relocation industry's first multiple moving services' supply chain administrator. The global organization administers unbiased, performance-based management of leading air, ocean, surface transportation and car carrier firms, and has in its network specialized removals services suppliers worldwide. Staffed with household goods veterans expert in industry tariffs, customer service and operations, Move Management provides Global 100 and Fortune 500 clients unparalleled levels of value, accountability and convenience. Clients have secure access to the industry's first proprietary portals and apps that offer real-time business intelligence reports. To learn more visit: http://www.MoveManagementInc.com or http://www.Graebel.com
# # #