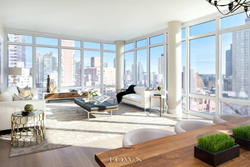 Set against a dramatic backdrop of incomparable, panoramic city and river views, The Charles' full-floor-only residences have set a new standard for luxury living and privacy in New York City.
New York, New York (PRWEB) May 06, 2015
TOWN New Development and Bluerock Real Estate are proud to announce that closings have begun at The Charles, the Upper East Side's highly acclaimed luxury tower located at 1355 First Avenue, between 72nd & 73rd Streets, and listed by Ginger Brokaw and Jason Karadus of TOWN New Development. Among units currently in contract is the building's nearly $38 million penthouse, which broke records for the neighborhood.
Set against a dramatic backdrop of incomparable, panoramic city and river views, The Charles' full-floor-only residences have set a new standard for luxury living and privacy in New York City. Units are designed on a grand scale with thoughtfully-planned, four-bedroom, four bath layouts; private, keyed elevator entrances; light-filled great rooms; and oversized modern kitchens and dining rooms.
The majority of the project is spoken for.
The homes deliver a contemporary take on gracious Manhattan living. Oversized living and dining rooms feature hallmark floor-to-ceiling windows that celebrate the city's expansive views and streaming natural light. Residents will also find beautifully appointed eat-in kitchens with Miele and Sub-Zero appliances; grand master suites with ample dressing areas; walk-in closets; and marble spa baths. Opulent finishes, including five-inch, white oak wood and marble flooring, provide timeless elegance to each unit, while the ceiling heights in every unit exceed 9ft to create a feeling of abundant space and volume.
To ensure that homes are ultra-quiet, the developers have installed a state-of-the-art, four-pipe fancoil system which is virtually invisible and silent. Substantial under-floor padding nearly eliminates any noise transmission as well.
The Charles was designed by architect, Ismael Levya, lauded worldwide for captivating designs that are both contemporary and sophisticated. Ismael Levya has designed many iconic residential developments in New York City, including 88 Greenwich, icon in Hell's Kitchen and Place 57 in Midtown.
Interiors, designed by David Collins Studio, designer of The London NYC hotel and a myriad of ultra-high end residences across the globe, feature the timeless, elegant aesthetic found in many of firm's breathtaking private residences and signature commercial projects.
"The Charles is unique, and truly stunning. The high percentage of units to go into contract pre-opening is a testament to the flawless quality," said Ginger Brokaw of TOWN New Development. "The Charles continues to challenge boundaries, from its daring, full-floor design to its extraordinary sales record," Jason Karadus of TOWN New Development adds.
Bluerock, which has been working with Town New Development to market the property, is particularly pleased with the project's progress and with the initiation of closings. "TOWN New Development has been a gracious, creative and truly well-informed partner on The Charles," said Phil Mendlow of Bluerock Real Estate. "Their enthusiasm for The Charles is as sincere as our own and their ability to understand what residents in the area need has helped them to serve as very skilled matchmakers for the building. We have no doubt that there will be very good harmony between the homebuyers and their homes."
The 32-story glass tower, developed by Bluerock Real Estate and Victor Homes, breaks from the traditional, pre-war, and post-war brick architecture of its surroundings while blending elegantly into the neighborhood with a seven-story, limestone base.
Building amenities include a resident lounge, private storage, fitness center, game room, and 24-hour doorman and concierge.
A limited selection of the Upper East Side's best full-floor, four-bedroom value remain, available for immediate occupancy, ranging from $6,583,500 to $9,882,000. Available residences include:
http://www.townrealestate.com/listing.html?webID=917135
http://www.townrealestate.com/listing.html?webID=710235
http://www.townrealestate.com/listing.html?webID=674475
http://www.townrealestate.com/listing.html?webID=598312
http://www.townrealestate.com/listing.html?webID=157266
About TOWN New Development
TOWN New Development, led by industry veteran Shlomi Reuveni, focuses on all aspects of high-end new development services, including: market research and analysis; pre-development planning, branding, marketing, advertising; and active sales operations. With a far reaching network of industry specialists, TOWN New Development has direct access to premier architects, contractors, interior designers and elite amenity providers. Innovative, experienced, and built on strong business principles, TOWN New Development also possess exceptional market data and resources. The dynamic team is comprised of seasoned industry leaders whose collective knowledge, experience and expertise are unsurpassed.
About Bluerock Real Estate, Developer
Bluerock is a leading real estate investment firm headquartered in Manhattan with over $1.5 billion of assets under management. The company's principals have over 100 years of aggregate experience with more than $10 billion in real estate investments. Bluerock's current portfolio consists of approximately 12 million square feet of apartment, retail, and office properties across the United States.
About Victor Homes, Development Manager
Founded in 1994, Victor Homes has become one of the industry's most dynamic development and construction companies. Victor Homes has a wide range of projects, from residential to commercial. With an unwavering focus on superb design, quality workmanship, and unquestionable value, the Victor Homes management team combines more than four decades of international construction experience. Every facet of the development process is carefully monitored, from land acquisition to design and marketing. It is this commitment to total quality and value that distinguishes Victor Homes as a leader in today's marketplace.
About Ismael Leyva, Design Architect
Founded in 1996, New York City-based Ismael Leyva Architects PC is an internationally recognized architecture, interior design, and urban planning firm with offices in New York City and Central America. The firm is recognized by the development and construction industry for its uniquely creative, iconic, and practical design. Since the establishment of the firm, Ismael Leyva Architects has built a portfolio of diverse, award-winning projects featuring responsive designs that address technical, social, and aesthetic requirements. Current projects include the Battery Maritime Building, 66 Rockwell, and the Hilton Garden Inn.
About David Collins Studio, Interior Design
David Collins Studio is an architectural-based consultancy that over the past 30 years has redefined luxury interior design on a global scale. The studio is proud to have been involved in designing unique projects for a wide range of clients, both in the commercial worlds of high fashion as well as the design of some of London's most loved and revered restaurants, hotels, and bars. Their work for private clients is no less impressive, although they have developed a reputation for discretion as well as creativity in their work designing homes for those who appreciate beauty, comfort, and attention to detail.