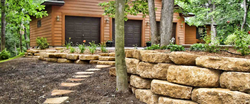 Someone can save thousands of dollars taking care of a drainage & erosion problem by letting us construct a quality retaining wall and proper drainage.
Tulsa, OK (PRWEB) June 02, 2015
Springtime in Oklahoma can be beautiful, yet it can also be worrisome. One day it can be sunny and 80 degrees and the next day can be a threat of severe thunderstorms. In the past month, heavy rains and high winds wreaked havoc on so many people's homes and properties. For those who did not have severe flooding and suffered only water erosion due to improper drainage, retaining walls and drainage systems can do wonders for a yard or property. It can also define areas of the yard and help with water drainage all while making a yard look beautiful.
Edgington Construction, established in Tulsa, OK, has over 15 years in the hardscaping, landscaping retaining walls, block retaining walls landscaping, masonry and the water drainage business. With the correct retaining walls and drainage, clients won't have to worry about water eroding around the foundation of a home. And one also doesn't have to worry as much about yard flooding and ruining grass or other plants. So not only does having retaining walls and proper drainage have a function, but it also adds character to any property.
See examples here: http://www.edgingtonconstruction.com/our-work
Landscaping retaining walls are the skeleton of the yard; they lay the foundation on how a yard will drain and how the dirt will be contained. If a yard has a slope to it, a retaining wall can help with drainage along with beauty. Railroad ties are a popular material but they do not last as long as rock or stone and will need to be replaced over a period of years. Rock, brick and stone can and will last for decades and require little to no maintenance.
But are retaining walls expensive? There are so many options today for all budgets. Edgington Construction works with their clients and understand that every situation is different. The better question to ask is, how much is it going to cost to repair the water damage around a home and yard? Erosion is the worst enemy of a home's foundation and if a drainage system and/or a retaining wall can direct the water away from the house, it has saved the homeowner thousands of dollars of repair in the future.
Outdoor living has become a huge trend in the past few years. Having a backyard to host barbecues and get togethers are always fun, but a yard may need a little help with landscaping retaining walls, block retaining walls or water drainage. Edgington Construction can help turn any backyard into a showcase so families and friends can enjoy a backyard getaway for many beautiful Oklahoma days in the future.
https://www.facebook.com/EdgingtonConstruction
https://www.linkedin.com/pub/larry-edgington/b9/282/b76