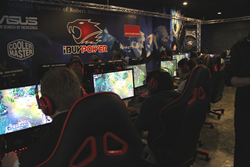 I'm really proud of our players and our coaching staff for what we accomplished this year. Second in North America for a first year program is amazing. --Kurt Melcher
Chicago, Illinois (PRWEB) May 04, 2015
The Robert Morris University Illinois eSports (competitive video gaming) League of Legends Team finished second in the 2015 North American Collegiate Championships in California this weekend. RMUI is the first university in the world to add an online sport to its athletic program and to offer a varsity scholarship program to eSports players. It is the first university to build an on-campus facility to facilitate gaming on both an educational and professional level.
Only four teams throughout North America qualified to battle it out in Santa Monica, California. The Eagles faced off against University of Connecticut, winning 2-0. They advanced to the championship round against the University of British Columbia who had beaten Texas A & M. The Eagles then lost the championship 3-0 to UBC.
Robert Morris University Illinois established its eSports program at its main campus in Chicago in September. The university has ten campuses in Illinois, but is not affiliated with Robert Morris University in Moon Township, PA. The RMU Eagles compete in League of Legends, one of the largest and most popular eSport games. Although eSports have long been a part of the culture of gaming, competitions have seen a large surge in popularity in recent years. Esports it the latest addition to RMU's already rich athletic program which includes 55 teams in a variety of sports.
Associate Athletic Director Kurt Melcher, who also directs the eSports program, accompanied the players to the tournament. "Robert Morris has always been at the forefront of providing opportunities for a diverse student population with different interests and skills. League of Legends is a competitive, challenging game that requires a significant amount of teamwork to be successful. I'm really proud of our players and our coaching staff for what we accomplished this year. Second in North America for a first year program is amazing. In sports you win or lose and we came up short today. We need to credit UBC for a great performance and program. We have learned so much from this year and our players and coaches want to improve our program and return to the NACC finals next year."
There are over 100 US and Canadian college and university teams in the Collegiate Starleague. Robert Morris competed with 1600 teams for Riot Game's North American Collegiate Championship and scholarship money. Each RMU player on the five-person team received $15,000 in scholarship money.
For more information contact: Kurt Melcher, 312-935-4110; kmelcher(at)robertmorris(dot)edu or check out the website: http://www.rmueagles.com/sport/0/147.php
Robert Morris University Illinois is a not-for-profit, baccalaureate and graduate degree granting institution, accredited by the Higher Learning Commission of the North Central Association of Colleges and Schools.* The University serves over 6100 students interested in getting an education in business, graphic arts, nursing and health care, culinary and computer studies at its main campus in Chicago, as well as at locations in Arlington Heights, DuPage, Elgin, Orland Park, Bensenville, Springfield, Peoria, Schaumburg and Lake County. In all communications, please refer to the university by its full name, Robert Morris University Illinois. Robert Morris University Illinois is not affiliated with Robert Morris University in Moon Township, PA. For more information, call 800-RMC-5960 or visit the web site at http://www.robertmorris.edu
*Higher Learning Commission of the North Central Association of Colleges and Schools, 30 N. LaSalle Street, Chicago, IL 60602, 312-263-0456.