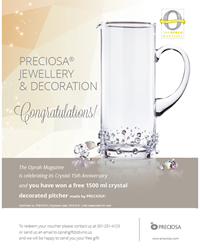 "We know Oprah's fans trust in her judgement, which speaks volumes for her trust in Preciosa."
NEW YORK (PRWEB) May 05, 2015
In celebration of her magazine's "crystal" anniversary, famous philanthropist, talk show host, actress, and editorial director, Oprah Winfrey, has selected Preciosa's Magic Crystal Celebration Pitcher for her magazine's latest giveaway.
In every issue, O, The Oprah Magazine creates a lust worthy spread of goodies called the 'O List' that are Oprah's favorites for that particular month. To celebrate the magazine's 15th year in print, this May's 'O List' will be a '15-Day Give-O-Way' featuring twenty glittering items to ring in its crystal anniversary. From gem-shaped soaps to a sparkling iPhone case, fifteen lucky contestants can enter to win all twenty gorgeous gifts, including the Preciosa Magic Crystal Celebration Pitcher. The pitcher is hand-decorated with extra-clear crystals from the largest (and perhaps one of the oldest) crystal producers in the world.
"We know Oprah's fans trust in her judgement, which speaks volumes for her trust in our product," says Iveta Burkonova, Marketing Director of Preciosa Beauty. "It is exciting to see Preciosa lauded by such a praised icon and publication."
The Crystal Celebration Pitcher, produced by Preciosa Beauty, is available through American Preciosa distributors or at http://www.divino.us for $140 (after the special 20% discount code: OPRAH).
The Czech label PRECIOSA entered into the American fashion world in 1950. Preciosa Beauty's mission combines traditional craftsmanship, modern glassmaking technologies and unique artistic design to create exclusive, timeless cut crystal for fine giftware, décor, and jewelry. Their crystal components have most recently graced the runways at the Blonds Spring 2015 and Fall 2015 New York fashion shows and the costumes of musical superstars Ariana Grande, Fergie, and Madonna.
For more information on the brand, please visit http://www.preciosa.com.