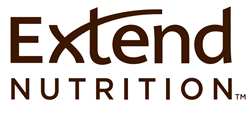 Best ZERO Carb Bar EVER is the Extend Nutrition Chocolate & Caramel
St.Louis MO (PRWEB) May 05, 2015
After record-breaking sales of Extend Nutrition's two innovative bar flavors in 2014, Walgreens introduces the Cookies & Cream flavor at stores nationwide this month. By focusing on innovation, Extend Nutrition has continually raised the bar for nutritional snacks. The brand has achieved a great taste, combined with an unprecedented nutritional profile, backed by international patents and clinical studies. Building on this success, Extend Nutrition will launch additional new products and expand retail availability throughout 2015.
"We are a company that is always on the move and 2014 was a transformative year for us. We introduced two new mouth-watering bar flavors, award-winning packaging, and became one of the Top 10 consumer nutrition brands on Facebook, with over 264,000 likes. Looking to the future, we have set aggressive goals and hope that we continue to blow our customers expectations out of the water," stated Outreach manager Jonathan Lindberg.
The two new bar flavors are receiving rave reviews from health-minded consumers. "Best ZERO Carb Bar EVER is the Extend Nutrition Chocolate & Caramel," wrote Randi Olson from Commack, New York.
Consumer buzz and engagement has been positive because very few companies please consumers' taste buds at the same time as offering a healthy, truly better for you product. Only Extend Nutrition manufactures cutting-edge products that are sugar free (or low in sugar), gluten free, naturally sweetened, fortified with vitamins & minerals, and scientifically proven to work.
Dr. Francine Kaufman, inventor of Extend Nutrition, created the line of snacks starting in her very own kitchen. At an early stage, she recognized that achieving great taste is the number one challenge in getting people to enjoy and regularly use the products. One of the very first patients to try a prototype formula let her know exactly how important taste is; as she recounts in her book Diabesity (Bantam Books), he said in no uncertain terms, "this will never catch on. It's gross."
"Over 20 years later, this patient would be thrilled about the great taste Dr. Kaufman has achieved in her two newest flavors – with a third new flavor, Yogurt & Berry, set to launch in the second half of 2015," Lindberg stated.
The two newest flavors, Cookies & Cream and Chocolate & Caramel were sold exclusively online for the product launch in 2014. Both flavors have a delicious nougat center; they are coated with sugar-free chocolate and a have a ribbon of caramel or cream nestled in between the layers of taste.
"They taste so good that you can hardly believe they are sugar free, gluten free, low glycemic and naturally sweetened with Stevia," stated brand manager Kensey Turnbaugh. "Our R&D team put in long hours to perfect these bars and we're following the same rigorous process in developing the new Yogurt & Berry bar. The flavor of this bar has impressed even the most critical palates in the food industry; nothing currently on the market even comes close in terms of taste and function."
Now, not only can you can find both flavors in 15-bar boxes at ExtendNutrition.com, you can also find the Cookies & Cream flavor in a 4-bar box at Walgreens retail outlets near the pharmacy in the diabetes section.
Product Pricing & Availability:
The Cookies & Cream and Chocolate & Caramel bars can be found online at ExtendNutrition.com for $23.99 per 15-bar box. Consumers can also find the Cookies & Cream flavor in a 4-bar box at Walgreens retail outlets (near the pharmacy, in the diabetes section) for $5.99 with additional retail availability to follow.
Nutritional Benefits:

Low in Calories (130-140 calories)
0g NET Carbs
10g of Protein
Sugar Free and Gluten Free
Helps control blood sugar for up to 9 hours
+
Invented by Dr. Francine Kaufman, world-renowned endocrinologist and former President of the American Diabetes Association, the line of Extend Nutrition Bars, Shakes, Crisps and Drizzles are the only snack foods made with the patented Nutra9 Blend™ which is clinically proven to help control blood sugar for up to 9 hours. Blood sugar control is the key to diabetes management and is an emerging concept for everyday health, weight management, and sports nutrition.
Extend Nutrition snacks have been enthusiastically recommended by thousands of certified diabetes educators, doctors, personal trainers, and registered dietitians around the world for over 10 years.
Extend Nutrition products are available at retailers nationwide, including Walgreens, CVS, Target, Amazon and other leading retailers where diabetes nutrition products are sold. For more information on Extend Nutrition, visit their website: http://www.extendnutrition.com/