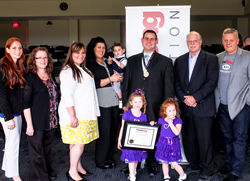 Scott is a wonderful example of the powerful impact one person can have toward shattering the stigmas of hearing loss
Syracuse, NY (PRWEB) May 05, 2015
For Scott Lieberman, furthering hearing health awareness is more than just a notable cause; it's personal.
A teacher, husband, and father who overcame hearing loss to accomplish his personal and professional goals, Scott was recognized as a HearStrong Champion by the HearStrong Foundation amongst hearing healthcare professionals at a special event on May 1 in Somerset, NJ.
Nominated by Hearing Aid Center of Forest Hills, a member of EarQ, HearStrong's main sponsor, Scott first decided to take control of his hearing health by utilizing hearing devices, albeit inconsistently, as a teen. While he was appreciative of how his devices performed, it wasn't until his daughter, Lily, was born with hearing loss that he felt emboldened to become a role model not only for her, but for others in their community as well.
Currently, Scott is one of the top fundraisers for the New York City chapter of the Hearing Loss Association of America.
"Scott is a wonderful example of the powerful impact one person can have toward shattering the stigmas of hearing loss in our society," said Ed Keller, founder and president of the HearStrong Foundation. "By continuing his work to inspire his daughter and members of his community to understand that choosing to hear better is a strength, he will truly help change lives."
About the HearStrong Foundation:
The HearStrong Foundation is a 501(c)(3) not-for-profit organization that seeks to shatter the stereotypes surrounding hearing loss and its advanced solutions by honoring the accomplishments of those who have overcome hearing loss and inspire others to do the same. Supported by the dedication of EarQ providers, the foundation is a worldwide advocate for hearing loss awareness, education and support. For more information about the foundation, or to nominate a HearStrong Champion, please visit http://www.hearstrong.org or contact info(at)hearstrong(dot)org.