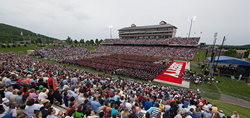 Lynchburg, Va. (PRWEB) May 04, 2015
On May 9, Liberty University will celebrate the accomplishments of the Class of 2015 during its 42nd annual Commencement Exercises. More than 17,500 degrees will be awarded. The university is preparing for an expected 34,000 guests at the main ceremony at Williams Stadium.
More than 7,700 master's degrees and over 500 doctoral degrees will be awarded, including 60 degrees from Liberty University School of Law. Liberty will recognize over 5,400 graduates who are active military, veterans, or spouses of service members.
Baccalaureate and Commencement
Commencement will begin at 10 a.m. on Saturday, May 9. This year's keynote Commencement speaker will be former Florida Gov. Jeb Bush. Baccalaureate is slated for 6 p.m. on Friday, May 8, in the Vines Center with O.S. Hawkins, president and CEO of the world's largest Christian-based mutual fund, delivering the main address. Special ceremonies are also scheduled to honor graduates who are in the military, veterans, and spouses of service members. See the full Commencement schedule.
Class of 2015 demographics
Many graduates were able to fulfill their dream of earning a degree thanks to Liberty's online education programs. The average age of this year's graduating class is 36, and 86 percent of graduates earned their degree online.
The top states represented at this year's Commencement are Virginia, North Carolina, Georgia, Florida, Texas, Pennsylvania, South Carolina, California, Ohio, and Maryland. The Class of 2015 represents a diverse range of backgrounds: the top countries represented (after the U.S.) are Canada, Korea, Nigeria, Japan, China, Germany, Ghana, and the United Kingdom.
This year, there are 4,800 graduates receiving honors distinction, with over 1,000 graduating with a perfect 4.0 GPA.
Top majors for the class of 2015
The top five majors of the graduating class are:
Resident, undergraduate
Business
Psychology
Nursing
Communication Studies
Criminal Justice
Online, undergraduate
Psychology
Interdisciplinary Studies
Religion
Business
Criminal Justice
Resident, graduate
M.A. Clinical Mental Health Counseling
Master in Public Health
M.A. Human Services
Master of Business Administration
Master of Divinity
Online, graduate
M.A. Human Services
Master of Business Administration
M.A. Professional Counseling
Master of Education
Master of Arts Management & Leadership
Watch Events Live
Individuals who would like to watch Baccalaureate or Commencement, but are unable to attend, may stream the ceremonies live online using the following links:

About Liberty University
Liberty University, founded in 1971, is the largest private, nonprofit university in the nation, the largest university in Virginia, and the largest Christian university in the world. Located near the Blue Ridge Mountains on more than 7,000 acres in Lynchburg, Va., Liberty offers more than 450 unique programs of study from the associate to the doctoral level. More than 200 programs are offered online. Liberty's mission is to train Champions for Christ with the values, knowledge, and skills essential for impacting tomorrow's world.