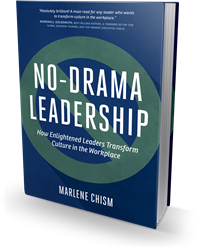 A prerequisite to making enlightened choices is to declare your values.
Boston, MA (PRWEB) May 05, 2015
No-Drama Leadership: How Enlightened Leaders Transform Culture in the Workplace by Marlene Chism (Bibliomotion, May 5, 2015)
Communication isn't a soft-skill: leaders are better served by viewing communication as a strategy that promotes the brand, builds morale, and assists leaders to align teamwork with the mission and values of the organization. In today's high-transparency, high change environment, developing wise leaders who communicate strategically is the next organizational frontier.
In NO DRAMA LEADERSHIP: How Enlightened Leaders Transform Culture in the Workplace (Bibliomotion, May 5, 2015) workplace consultant Marlene Chism provides the model today's corporate world needs: she builds a bridge between the levels of leadership while offering a multifaceted perspective. She introduces the mindset shifts and practical skills needed to build a culture of "enlightened leaders" who are aware, aligned, and accountable.
A prerequisite to making enlightened choices is to declare your values. Until you declare your values, there is an accountability gap and no real alignment. – Marlene Chism
This book contrasts two perspectives: one of drama and one of enlightenment. While the drama perspective is about seeing obstacles, the enlightened perspective is about seeing opportunities. Using case studies, checklists, and examples from various levels of hierarchy in leadership and from a variety of industries, NO-DRAMA LEADERSHIP shows leaders how to:
· Identify the signs of misalignment
· Increase your leadership effectiveness
· Use four quadrants of change as a catalyst for leadership growth
· Increase employee engagement
· Tap into the gifts and talents of your employees
· Communicate strategically
· Create a culture of accountability
· Increase innovation and productivity through empowerment
Today's leader needs more than position, power, or business acumen. The world needs people who have the eyes to see what is possible, and the power to create the right environment, empowerment, and engagement. NO-DRAMA LEADERSHIP shows us how to create enlightened leaders at all levels: from the CEO to the supervisor, from the classroom to the boardroom who balance choice and power with wisdom and responsibility.
About Marlene Chism:
Marlene Chism is a consultant, international speaker, and the author of Stop Workplace Drama: Train Your Team to Have No Complaints, No Excuses, and No Regrets (Wiley, 2011). Marlene's passion is developing wise leaders and helping people to discover, develop, and deliver their gifts to the world. Clients who work with Marlene report the following results: increased personal effectiveness and focus, stronger communication skills, increased profitability through clarity and alignment, higher employee engagement, and dramatically improved workplace culture.
On an international scale, Marlene is a dynamic storyteller with the ability to make the complex simple, helping diverse audiences from corporate executives to entrepreneurs to frontline employees. She delivers her message on stopping drama and creating enlightened leaders through corporate retreats and client work, as well as at association meetings, universities, and other speaking engagements.
Marlene has a communications degree from Drury University, and a Master's degree from Webster University.
Praise for No-Drama Leadership:
"Absolutely brilliant! A must-read for any leader that wants to transform culture in the workplace."– Marshall Goldsmith, best-selling author, a Thinkers 50 Top Ten Global Business Thinker, and top ranked executive coach
"If 'culture is the beliefs and values practiced by an organization,' then No-Drama Leadership is the handbook for the leaders of the future, building the enlightened organization of the future." – Frances R. Hesselbein, president and CEO, The Frances Hesselbein Leadership Institute 1998 Recipient, The Presidential Medal of Freedom
"Selected as one of the best business books of 2015 by Soundview Executive Book Summaries." – Soundview Executive Book Summaries
"In No-Drama Leadership Marlene Chism outlines the path to creating enlightened leaders – giving us the will, vision, and skills to lead and work in a culture of success. Leaders at all levels from the shop floor to the executive can benefit from the wisdom and power in these pages." – Kevin Eikenberry, best-selling leadership author and the Chief Potential Officer of The Kevin Eikenberry Group
"The author shows, through in her choice of stories, her great skill in communicating to us how bad leadership looks from a subordinate's point of view, and her skill in giving us practical advice on how to evolve toward being better at managing the complex relationship that leadership involves."– Edgar H. Schein, Professor Emeritus, MIT Sloan School of Management, author of Humble Inquiry: The Gentle Art of Asking Instead of Telling (2013)
"Marlene Chism lays out in straightforward terms the issues and traps common in leadership at any level based on her vast experience across many organizations and with many leaders. Her insights about behavior, attitudes, beliefs, and misconceptions are universal, whether talking about a company in Tallahassee or Tokyo. This book is practical and immediately applicable no matter the country or the cultural context. No-Drama Leadership can help deliver results for any leader." – Dr. Steven Bleistein, CEO, Relansa, Inc., Tokyo, Japan
"Marlene Chism shows leaders how to redirect negative energy into positive action. The No-Drama leader creates a culture that delivers results, and keeps everyone aligned with noble purpose. " – Lisa Earle McLeod, Forbes.com columnist and author of the best-seller, Selling With Noble Purpose
"Marlene Chism has a powerful way of communicating with readers. Her insights on what today's leaders need and what is expected of them is conveyed in this book. Instant enlightenment. Guaranteed!" – Babitha Balakrishnan, senior editor of Excellence Essentials Publications with HR.Com, the largest global social networking and resource site for HR Professionals
"Workplace drama compromises morale, jeopardizes productivity, and encourages turnover because star performers simply won't put up with it. Marlene Chism understands that only leaders can truly stop it and prevent it before it destroys the organization's culture. Leaders who commit to growing profits and playing a bigger game should read and heed Chism's advice." – Linda D. Henman, Owner Henman Performance Group and author of Challenge the Ordinary
"Marlene knows her stuff! If you are ready to look at your management difficulties as an opportunity to develop and improve, then this book is for you. We think it is very People Centric!" – Don Harkey and Randy Mayes, founders of People Centric Consulting Group
"Talk to some managers for any length of time, and you'll hear them describe a typical day with words like busy, stressed, or even burned out. But when you speak with an enlightened leader, you hear words like aware, aligned, and accountable. How it possible that bosses within in the same organization is can range from feeling like helpless victims to enlightened, engaged leaders? Marlene Chism's No-Drama Leadership shows leaders how to step out from under the shadow of drama and into enlightenment." – Scott Carbonara, aka The Leadership Therapist, and author of Manager's Guide to Employee Engagement
"Marlene Chism has hit the nail on the head. We need to get this book not only into the hands of corporate America but also in public safety and government. No-Drama Leadership will change the way we do business." – Kenny Mountain, president & CEO, Combix 911 Specialists
"Marlene Chism demystifies drama like no other. Stop letting your culture fall victim to drama; instead, become an enlightened leader who aligns your team through values-based actions. No-Drama Leadership provides leaders with the most comprehensive and simple approach to deconstruct drama and build a flourishing culture—in any industry or situation." – Jocelyn Godfrey, president, Spiritus Communications
"Every leader who reads this book will immediately relate to the problems that so often go with leadership. Marlene does a masterful job in No-Drama Leadership of taking the reader from pain and frustration into hope and excitement by understanding and correcting the role that the leader plays in workplace drama." – Bonnie Hagemann, CEO, Executive Development Associates, Inc.
About Bibliomotion:
Bibliomotion is a book publishing house designed for the new publishing landscape. While many publishers work to retrofit old processes for new realities, Bibliomotion was founded by book-industry veterans who believe the best approach is a fresh one – one that focuses on empowering authors and serving readers above all else. Moving away from the top-down model that has dominated the publishing process for years, we give each member of the team – including the author – a seat at the table from the very beginning and in doing so, work side-by-side to launch and sell the best content possible, making it available in a variety of forms.