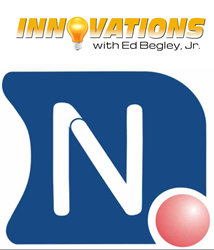 Hayward, CA (PRWEB) May 06, 2015
Novodiax announced today that they will be featured in an upcoming episode of Innovations with Ed Begley Jr., airing via Discovery Channel 4th QTR 2015. Dates and show times TBA.
This segment will explore Novodiax, a company that is dedicated to advancing tissue-based diagnostics. Audiences will learn about Novodiax's polymer detection system-based Direct Immunohistochemistry (Direct IHC). Innovations will go behind the scenes to investigate how, based on this technology, Novodiax developed the intraoperative diagnostic tool that help surgeons make faster and more precise decisions during a critical surgical process.
"An intraoperative tissue examination needs to be completed within 20 minutes, thus only those quick chemical staining procedures have been used. Novodiax's Direct IHC can be finished at comparable speed as the chemical staining with higher sensitivity, making intraoperative immunoassay into reality, and meanwhile significantly reducing the patient recalls for additional surgery, benefiting millions of cancer patients all over the world," said Jianfu Wang, CEO, Novodiax.
"Novodiax is advancing diagnostics through innovations," said Michele Nehls, Producer for the series. "We look forward to enlightening our viewers on the amazing things they are doing."
About Novodiax:
Novodiax is a new biotech company located in San Francisco Bay Area with a focus on tissue-based diagnostics and immunoassays. With its invention of Direct IHC technology, multiple unmet needs in medical diagnostics and therapeutics development can now be addressed. In addition to the intraoperative application, the technology can convert therapeutic antibodies into companion diagnostic tool, streamlining a series of procedures in therapeutic antibody development from preclinical stage to clinical trials and to patient selection in clinics.
For more information, visit: http://www.novodiax.com.
About Innovations and DMG Productions:
Innovations, hosted by award winning actor Ed Begley, Jr., is an information-based series geared toward educating the public on the latest breakthroughs in all areas of society. Featuring practical solutions and important issues facing consumers and professionals alike, Innovations focuses on cutting-edge advancements in everything from health and wellness to global business, renewable energy, and more.
DMG Productions (responsible for creating the Innovations show) includes personnel specialized in various fields from agriculture to medicine, independent films to regional news and more. Field producers work closely with experts in the field to develop stories. This powerful force enables DMG to consistently produce commercial-free, educational programming that both viewers and networks depend on.
For more information visit: http://www.InnovationsTelevision.com or contact Michele Nehlsat (866) 496-4065 x 822 orvia email atMichele(at)InnovationsTelevision(dot)com.