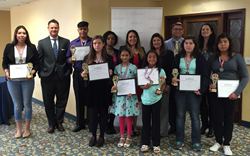 It is our sincere hope that the lessons young students learn by participating in the contest will further aid them in developing good financial skills and will follow them into adulthood.
Riverside, CA (PRWEB) May 06, 2015
Springboard Nonprofit Consumer Credit Management, Inc., ("Springboard") is pleased to announce for the ninth consecutive year the winners of its annual youth financial literacy poster contest. The contest is designed to get young people thinking about how to manage money effectively and offers a creative outlet to demonstrate their knowledge. The contest is Springboard's yearly initiative to bring awareness to industry studies which show that adult money habits are established by the age of seven.
Since 2006, Springboard has invited all students in 3rd through 12th grade attending public and private schools in Riverside and San Bernardino Counties to participate in the contest which, provides an opportunity for youth to express their creativity while gaining an understanding of personal financial concepts. Springboard receives hundreds of entries from students who compete for first, second and third place in each of the three grade categories – elementary, middle and high school. Acceptable contest entries may include original artwork submitted on stock paper or three-dimensional artwork reflecting the contest theme which is selected each year by Springboard's team of certified financial educators who travel throughout Southern California's Inland Empire Region presenting financial literacy workshops to youth and adults. The theme chosen for this year's contest was "To Be Money Smart, I Will ..." An esteemed panel of community stakeholders judge the entries on expression of theme, artwork, style, content and overall creativity.
The winners were recognized at a luncheon held in their honor at Riverside's historic Mission Inn on Thursday, April 23. Each winner was presented a trophy, academic medal and certificate of achievement. In addition, Springboard awarded $100 to first place winners; $75 to second place winners and $50 to third place winners.
"This is a fantastic opportunity to work with students, teachers and parents to introduce important financial concepts to youth at an early age," said Melinda Opperman, Springboard's senior vice president. "It is our sincere hope that the lessons young students learn by participating in the contest will further aid them in developing good financial skills and will follow them into adulthood."
Springboard congratulates the following students who include first place winners, Sukhmanpreet Kaur, Jennifer Florez, and Dulce M. De Leoñ; second place winners, Mia Mihara, Nataly Nunez, and Kevin Olea; and third place winners, Roberto Camberos, Jr. and Kacey Haro.
The distinguished panel of judges this year included Veronica Vergne, Altura Credit Union; Cathy Paredes, Bank of America; Michael Elkins, Community Action Partnership of Riverside County; Judith Farnham, Community Action Partnership of San Bernardino County; and Caasi Algazi, United Way of the Inland Valleys.
"We're extremely proud of all the students who participated and applaud them for their commitment to academic excellence. We appreciate our judges and thank them for their continued support of financial literacy education," said Opperman.
About Springboard Nonprofit Consumer Credit Management, Inc.
SPRINGBOARD® Nonprofit Consumer Credit Management is a 501(c)(3) nonprofit personal financial education and counseling organization founded in 1974 with the mission of improving the financial well-being of individuals and families and by providing access and assistance to affordable housing. Springboard is a U.S. Department of Housing and Urban Development-approved housing counseling agency and a member of the Association of Independent Consumer Credit Counseling Agencies and the National Foundation for Credit Counseling, the nation's longest serving nonprofit financial counseling organization. Springboard is also a proud member of the Hope Now Alliance, a cooperative effort between the U.S. government and mortgage market participants to help struggling homeowners. Springboard offers personal financial education and assistance in credit counseling, housing counseling, reverse mortgage, debt and money management, pre-bankruptcy counseling and debtor education through educational programs and confidential coaching. Springboard is accredited by the Council on Accreditation, signifying the highest standards for agency governance, fiscal integrity, counselor certification and service delivery policies. Counseling is available by telephone nationwide or in-person at office locations in California, Arizona, Nevada, New Mexico, Texas, Massachusetts, South Carolina, Florida and Maryland. For more information on Springboard, please call 800-449-9818 or visit their web site at http://www.Springboard.org.