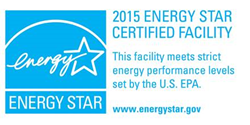 "We know that there are opportunities to become even more efficient in our business and we are constantly looking for ways to improve. This is a strong indication that we are starting to make a little bit of difference."
Elkridge, MD (PRWEB) May 07, 2015
As the world becomes more environmentally conscience, some businesses have begun to adjust their daily operations to be less damaging to the environment. These adjustments are usually simple, daily fixes. However, a few companies go the full distance and make their buildings Energy Star Certified, like Reico Kitchen & Bath did with their showroom and warehouse in Elkridge, MD.
To make a commercial building Energy Star compliant, a business must use 35% less energy and generate 35% fewer greenhouse gases than similar buildings. This process usually takes several years and involves numerous investments to the building, many of which can have large upfront costs. As Reico's Director of Operations, Jamie Hipsley, explains, "We are extremely proud of this Energy Star recognition for our Elkridge location. It is something that our Operations team and our entire company is committed to at all of our locations."
Reico started by installing fluorescent lighting on motion sensors, which replaced the metal halide lighting. These new fluorescent bulbs are more energy efficient, and the lighting will automatically turn off when no one is in a specific area. They also changed the lighting in their showroom to LED bulbs, which use less energy and last from 7 to 10 years. These changes alone help save about 30-40% on their monthly kilowatt usage.
But they didn't stop there. Reico started a recycling program in 2011, recycling materials like cabinets, countertop material, cardboard, paper, cans, plastic bottles, metal, and wood pallets. They also collect office paper and cardboard from all of their additional locations. Since 2011, Reico Kitchen & Bath has recycled about 1.6 million pounds of material.
Hipsley continues, "We know that there are opportunities to become even more efficient in our business and we are constantly looking for ways to improve. This is a strong indication that we are starting to make a little bit of difference."
About Reico Kitchen & Bath
For 60 years, Reico Kitchen & Bath has been the premier distributor of kitchens and bathrooms in the mid-Atlantic region with 21 stores covering DE, MD, NC, PA, and VA. Despite being the largest kitchen and bath distributor in the country, the success of Reico is structured around earning the business and appreciation of their clients. Reico Kitchen & Bath's goal is to have every customer feel confident recommending them. Reico offers full turnkey service, providing cabinets, countertops, appliances, installation and everything else for a kitchen or bathroom project. Come to where the professionals have trusted their own businesses to since 1952, and watch Reico bring the dream of a new kitchen or bathroom to life. For more information visit http://www.reico.com.