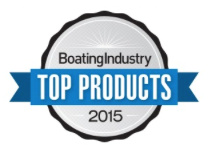 MyTaskit Pro is reshaping how marine businesses communicate more efficiently with customers, and coordinate work internally with service staff.
West Palm Beach, FL (PRWEB) May 05, 2015
MyTaskit, provider of the easiest to use and most complete service coordination and boat management platform for individuals and service professionals, today announced that MyTaskit Pro has won a 2015 Boating Industry Top Products Award. MyTaskit Pro, a task management and collaboration tool for boat businesses and their customers, was honored as a Top Product by Boating Industry for its innovation and role in redefining marine industry technology.
"We are honored to receive a Boating Industry Top Products Award, which recognizes companies that are forging ahead with new categories of products that advance the marine industry," said Kevin Hutchinson, founder and CEO of MyTaskit. "MyTaskit Pro is reshaping how marine businesses communicate more efficiently with customers, and coordinate work internally with service staff. These businesses are seeing improved operational efficiency, increased customer satisfaction and greater profitability."
Service providers use MyTaskit Pro to receive customer task requests online, communicate with owners and captains, respond to inquiries, supply estimates, secure approvals, offer updates and generate reminders when service is due. When customers have a service issue, they can simply "Taskit" to their service pros using the easy-to-use MyTaskit application from any computer or mobile device. Customers can even upload photos or videos to describe work needing to be done.
Internally, service companies use MyTaskit Pro to coordinate tasks between technicians, managers and subcontractors. This saves time, money, and improves customer loyalty and resource efficiency. In the back office, businesses can use MyTaskit Pro to process work orders, order parts, automate their accounting, generate bills, and more.
MyTaskit Pro's two-way service coordination and task management is unique in the service-business technology space. Sites such as Yelp, Thumbtack, Angie's List, HomeAdvisor.com, Porch.com and others do not connect local service businesses with customers in these ways. Instead, MyTaskit Pro enables companies to coordinate business with their existing customers online, much the same way banks and other industries have done.
"Our emphasis is to enable service companies to build an online and digital relationship with their existing customers and eliminate the digital divide other solutions create between businesses and their customers," Hutchinson added. "Our application helps consumers better manage the things they own, such as boats, and enable service professionals to transact business online."
Business users can start using My Taskit Pro for service coordination and profile management for a nominal subscription fee of $79/user/month for service managers and $59/user/month for field technicians. Discounts apply for businesses that require 5 or more licenses.
To learn more, and to create a free marine business profile on MyTaskit, visit http://www.mytaskit.com.
About MyTaskit
MyTaskit simplifies life for individuals and service professionals by facilitating and automating personal and business tasks in the most proactive, coordinated and shared manner. The company's solutions include MyTaskit, a mobile-enabled, easy to use task-sharing platform to centrally manage and coordinate all-important activities related to both work and play. For businesses, MyTaskit Pro helps service professionals significantly increase operational efficiency, customer satisfaction and profitability by streamlining back-office and service delivery operations, and by establishing electronic, transparent and proactive communication channels with clients and coworkers. Learn more at http://www.mytaskit.com.