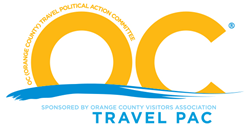 ORANGE COUNTY, CA (PRWEB) May 05, 2015
The Orange County Visitors Association is pleased to announce the formation of its OC Travel PAC and the PAC's Board of Directors. The newly elected officers are Gary Sherwin, President/CEO of Newport Beach and Company as Chairman; Kyndell Thorson, Manager, Government Relations Disneyland Resort, as Vice-Chairman; and Tyler Gentry, Manager Government Affairs Irvine Chamber of Commerce, as Secretary/Treasurer. Judy Bijlani, Travel Writer and past President/CEO of Visit Laguna Beach will serve as the Executive Director for the Committee. Newly appointed Directors include Jay Burress, President/CEO of Anaheim Orange County Visitor & Convention Bureau; Kelly Miller, President/CEO of Visit Huntington Beach; and, Ed Fuller, President/CEO of Orange County Visitors Association as advisor to the committee.
The mission of the OC Travel PAC is to create and sustain a fund to be used for supporting local and regional political efforts that provide for a healthy visitor industry in Orange County. Job creation and economic business growth are the pillars of the tourism industry. "The OC Travel PAC believes that supporting OC political candidates and current leaders that understand the benefits of the travel and tourism industry, and advocate on its behalf, is vitally important" stated Gary Sherwin, Chairman, OC Travel PAC.
Orange County tourism is key to a strong local economy. Tourism spending in the OC in 2013 topped $9.6 billion. With more than 157,000 tourism-related jobs in the OC, the County welcomed 44.4 million visitors in 2013 of which 3.8 million were international guests.
The Orange County Visitors Association (sponsor of the OC Travel PAC) is the official voice for tourism in the county advocating on behalf of the industry and marketing the region both domestically and globally.
###
About OCVA --- The Orange County Visitors Association (OCVA) represents more than 700 members of Orange County, California's tourism community and is the leading resource for visitor information about the county's 34 cities. OCVA serves as steward of The OC brand, recognized worldwide as the home of world-famous theme parks, unparalleled shopping, 42 miles of pristine coastline, renowned beachfront resorts, and innumerable activities ranging from watersports to world-class performing arts. OCVA promotes the destination both domestically and internationally, with tourism offices in four international cities. Orange County is located in the heart of Southern California and provides easy access to all the attractions the region offers. For more information, go to http://www.VisitTheOC.com. Follow OCVA on Facebook (visittheoc) and Twitter (@VisitTheOC).
Orange County Visitors Association | 19200 Von Karman, Suite 880 | Irvine, CA 92612
Kelly Miller, Chairman OCVA | Gary Sherwin, Chairman OC Travel PAC
Ed Fuller, President/CEO