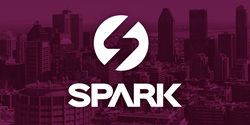 Spark is a turnkey intranet solution for midsize companies leveraging Office 365, SharePoint and Yammer.
Chicago, IL (PRWEB) May 05, 2015
Rightpoint, a leading digital agency and technology consultancy based in Chicago with offices in Detroit and Denver, today unveiled a new product, Spark. Spark is a turnkey intranet solution for midsize companies leveraging Office 365, SharePoint and Yammer.
Spark is inspired by the employee engagement and collaboration experiences built for the largest and most iconic brands in the world, but tailored and right-sized to meet the implementation and budgetary needs of midsize companies. Spark can be up and running in as little as a few weeks for a fraction of the cost of a custom-built intranet, yet is feature rich and customizable to fit any small to medium-sized business.
"Spark was created because we saw a gap in the market," said Rightpoint Director of Product Dave Domm. "Throughout the past 8 years, we've learned that mid-market companies have a need for a world-class intranet, but don't necessarily have the resources and budget to dedicate to a roll-out. With Spark, we're leveraging Office 365 to help midsize companies increase productivity, collaborate more effectively and embrace enterprise social, at the right price and in a matter of weeks."
Spark is built by the engagement, social and cloud experts at Rightpoint. With more than 500 collaboration and employee engagement solutions under their belt, the Rightpoint team has been recognized more than once for consistently delivering targeted solutions that meet and exceed their clients' expectations. In 2014, the creators of Spark, Rightpoint, received a top, global honor from Microsoft around employee engagement and enterprise social when they were named a Collaboration & Content Partner of the Year Finalist. Rightpoint also won a Ragan employee engagement award in 2015 for their work delivering a personalized intranet for a global brand.
Spark was introduced at Microsoft's Ignite Conference taking place in Chicago, Ill. May 4-8, 2015. To stay updated with the latest from Spark, follow them on:
Learn more at http://www.sparktheconversation.com.
About Rightpoint
Rightpoint creates world-class digital solutions that drive profitable growth and sustainable competitive advantage for some of the world's largest companies and most iconic brands. Driven by the firm's passion for pragmatic thinking, Rightpoint's business philosophy is to rethink the "typical" consulting model, combining attributes of management consulting, IT consulting, and creative agency services to help clients drive business results by solving strategic problems. Rightpoint's breadth of services include digital strategy, mobile, social, cloud, CRM and application development. With a client base of more than 250 companies, Rightpoint was named to Forbes' 2014 list of America's Most Promising Companies and Crain's 50 Fastest Growing Companies in Chicago in 2014. Rightpoint's pervasive "intrapreneurial" spirit, which ensures that clients "get it right" the first time, is the foundation by which Rightpoint has built a strong, national reputation for excellence.
###