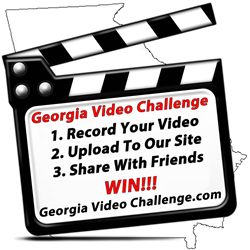 I DARE YOU to take the Georgia Video Challenge
Atlanta, Georgia (PRWEB) May 05, 2015
Georgia hosted America's first trade show designed specifically to highlight the products manufactured in a single state in 2013 and 2014. Members of the Georgia Manufacturing Alliance (GMA) worked together to create a successful event attended by over 1,000 people each year. The Georgia Manufacturing EXPO was in direct response to surveys that indicated that average consumers could not name three products manufactured in Georgia. This event was the beginning of the "BUY FROM GEORGIA" campaign. "American consumers bought into the myth that we don't manufacture things in the United States anymore, so as a result, we stopped looking for locally made goods. The "BUY FROM GEORGIA" initiative is focused on educating consumers about local brands and manufacturers in our community," said Jason Moss CEO of Georgia Manufacturing Alliance.
The "BUY FROM GEORGIA" consumer awareness campaign is so innovative and unique that Governor Nathan Deal presented a Proclamation declaring June as "BUY FROM GEORGIA MONTH" at the State Capitol in 2014 and 2015. Rather than hosting an EXPO in 2015 GMA elected to educate consumers through the "Georgia Video Challenge". This program encourages consumers and manufacturers to upload a short video that tells about their favorite Georgia made product and why it is "Good for Georgia". "This is a fun and easy way to get consumers participating in a program where they can win some great prizes while learning about Georgia products," added Moss.
Two prizes will be awarded. The first $500 prize will go to the "Best Video" selected by a panel of judges from May 15-20. The winner will be announced on May 20. The second $500 prize is the "People's Choice Award" for the video with the most votes by June 30th. Participants are rewarded on their ability to obtain votes by engaging social media and other promotional tools. By promoting this program to friends and family, the effectiveness of this campaign is multiplied and more people than ever will learn about products that are manufactured in Georgia. Moss added "Everyone should check out the project and cast a vote for your favorite video, you will be impressed with what you find."
"Take the Georgia Video Challenge, I DARE YOU…." said Moss
About Georgia Manufacturing Alliance:
The Georgia Manufacturing Alliance is a membership organization that helps support, promote and grow all Georgia manufacturing companies state-wide. GMA host a variety of plant tours, educational sessions and networking functions designed to add value for all members and help create profitable business connections. GMA has been supporting the industry since 2008. For more information visit http://www.GeorgiaManufacturingAlliance.com or call 770-338-0051