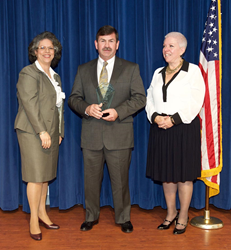 Cambridge Marine, under the leadership of Jeffery Johnson, is one of USCG's premier construction contractors in the Northeast Region
New London, CT (PRWEB) May 05, 2015
Cambridge Marine Construction is a small business construction contractor, has received the 2015 Department of Homeland Security (DHS) Small Business Achievement Award. This award was presented to Jeffery Johnson, President of Cambridge Marine, at the 11th Annual DHS Small Business Ceremony held on April 17, 2015, in Washington, D.C.
"We are honored to be selected by DHS for this prestigious award," said Mr. Johnson. "We're proud of our team's expertise, hard work, and commitment to excellence in support of the coast guard's mission."
The annual DHS Small Business Achievement Award is presented to select small businesses nationwide in recognition for exceptional contributions to the homeland security mission. The award is sponsored by the DHS Office of Small and Disadvantaged Business Utilization (OSDBU) and includes nominations and substantial participation by the broader DHS procurement community and program office in DHS components.
According to the United States Coast Guard (USCG), "Cambridge Marine Construction, under the leadership of Jeffery Johnson, is one of USCG's premier construction contractors in the Northeast Region. Mr. Johnson is professional and is always cognizant and respectful of USCG's critical operational needs, complies with contract and regulatory requirements and usually completes projects ahead of schedule. Cambridge's dedication to customer satisfaction and commitment to quality work are commendable and should be recognized."
Working under the auspices of the DHS/SBA Partnership Agreement, USCG was able to successfully negotiate the reconstruction/repair work with a reputable, successful 8(a) contractor, with overall savings to USCG of approximately $218,500.
About Cambridge Marine:
Cambridge Marine is SBA Certified 8(a) firm that provides marine and general construction projects for US government agencies, as well as private industry. Over 98% of their federal clients in the last six years have been return customers creating lasting business friendship.
For more information, please visit http://www.cambridgemarine.com or call Jeff Johnson, President, Cambridge Marine, at (860) 443-2765. His email address is jeff(at)cambridgemarine(dot)com.