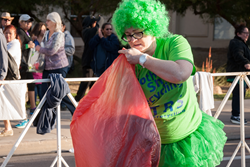 "Many runners bring bags of gear or worn out shoes in their luggage to ensure its responsibly recycled," says Fonta Stravropoulos Southern California Market Team Manager.
San Diego, CA (PRWEB) May 12, 2015
The Suja Rock 'n' Roll San Diego Marathon & 1/2 Marathon is expected to draw 20,000 runners from across the world on May 29-31st. The 3-day event also brings thousands of supporters and spectators to the city, which is a boom for tourism but can also overload municipal waste streams.
For the third consecutive year, marathoners, fans and family have taken the pledge to ROCK RUN RECYCLE as they race to the finish line. Registered runners will drop off unwanted warmup gear, running shoes and other apparel at the start lines for recycling. Attendees at the 2-day Health and Fitness Expo will drop off gently used, out of season and unwanted apparel at the ATRS Recycling Booth (#112) as they shop for new gear.
This effort will have a significant impact on clearing the race course of reusable textiles, diverting them from city landfill and supporting San Diego's waste diversion goals. The city is one of 15 California municipalities with a Zero Waste Initiative and has maintained a 68% diversion rate since 2012.
Sponsored by Rock 'n' Roll Marathon Series and partner American Textile Recycling Service (ATRS), the ROCK RUN RECYCLE campaign helps spread the message about the importance of responsible textile recycling within the competitive running community and provides easy, convenient onsite Clothing & Shoe Recyclers at locations throughout the downtown event. Every pound collected over the weekend festivities will be weighed and supports local charity Giving Children Hope. The non profit organization provides free or low cost programs and services throughout Southern California.
"We are so inspired by support from runners and attendees at the marathon," says Fonta Stravropoulos Southern California Market Team Manager and long time SoCal resident, "Many out-of-owners bring bags of gear or worn out shoes in their luggage, just to ensure it's is responsibly recycled."
ATRS staff and volunteers will be on hand wearing bright green "Clothing & Shoe Recycling Here" tee shirts, along with the company's funky recycling fairies, collecting thousands of pounds of discarded warmup gear, excess race shirts, unclaimed medals, snacks, water and hydration beverages at the end of the course. All items will be reused, redistributed or recycled. Perishable items collected from the Finish Line will be delivered immediately to Giving Children Hope to supplement the "We've Got Your Back," a nutrition program serving approximately 5,000 hungry students during the school year.
American Textile Recycling Service (ATRS) is the nation's fastest growing textile recycler and an official recycling partner of The Rock 'n' Roll Marathon series. Its socially responsible business model provides free textile recycling solutions for the public, job stimulation worldwide and much-needed funding for worthy local charities. Easy, convenient ATRS Recyclers are available throughout Southern California, Tennessee, Atlanta, Orlando, Phoenix, Scottsdale, Tempe and Tucson AZ, San Antonio, Austin, Dallas, Houston, Galveston and Beaumont TX, Michigan, Oklahoma, Colorado. For press inquires contact PR(at)atrsonline(dot)com.