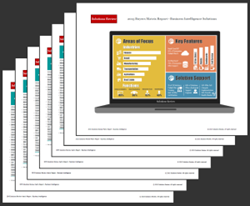 The Buyers Matrix will help IT professionals cut through a lot of the clutter in identifying the right solution for their BI needs
Woburn, MA (PRWEB) May 05, 2015
Today, Solutions Review has released a new buying tool, the 2015 Buyers Matrix Report: Business Intelligence Solutions, to assist CIOs and IT professionals in making the difficult decisions surrounding the selection of a BI software for their organization. The Buyers Matrix Report is a visual reference and summary of the top-28 best-of-breed Business Intelligence (BI) solutions in the market today. Direct comparisons of the 28 BI solutions and their offerings are provided in an easy to digest matrix, spanning specific categories which include: Areas of Focus, Industries, Features, Services, and Support.
The BI landscape is evolving in real-time, making the challenge of finding and deploying the right software solution quite difficult. In addition, CIOs will discover that not every BI solution will offer every capability or deliver proficient levels of support and services for their specific needs. Certain solutions are best suited for enterprise level businesses while others are built for growing companies. Some providers offer cloud BI tools but do not offer data blending or visualization capabilities for example. The combinations are endless, and these variances can make the task of finding the right solution for you and your organization's specific needs a daunting one.
"We understand how much time and effort goes into researching what each provider brings to the table when looking to purchase technology solutions," said Solutions Review President, Doug Atkinson. "Our Buyers Matrix Report accelerates that processes by bringing together all the critical capabilities offered by the best BI solutions providers while allowing IT buyers to compare those solutions and drill down into the best BI options for their specific needs."
The 2015 Buyers Matrix for Business Intelligence Solutions evaluates the following BI providers: Actuate (OpenText), Alteryx, Arcplan, Birst, BOARD International, Datameer, GoodData, IBM Cognos, Information Builders, TIBCO Jaspersoft, Jedox, Logi Analytics, Microsoft Power BI, MicroStrategy, Oracle, Panorama, Pentaho (Hitachi), Platfora, Prognoz, Qlik, Revolution Analytics (Microsoft), Salient, SAP, SAS, SiSense, Tableau, TARGIT, and TIBCO Spotfire.
With the release of this latest tool, Solutions Review for Business Intelligence continues to distinguish itself as the best online resource for CIOs and IT professionals looking to locate the best BI solutions for their needs. The Buyers Matrix, coupled with Solutions Review's 2015 Buyers Guide for Business Intelligence, which offers detailed profiles of all 28 BI providers, as well as important questions to ask when evaluating BI solutions, will arm IT professional with all the relevant information needed to assist them in their search.
About Solutions-Review.com
Solutions Review is a collection of online news sites bringing the latest technology news, opinions, social media, best practices and industry events together in one place for our readers. With a strong focus in the Enterprise Mobility, Big Data, Data Analysis, Identity Management sectors and the Cloud, Solutions Review is managed by a team of content experts and features original content along with a thoughtful aggregation of industry best practices and solution news. Solutions Review allows seekers of technology solutions to make thoughtful and informed decisions.
Contact:
Matt Adamson
339-927-9237
madamson(at)solutions-review(dot)com