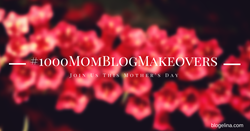 "Everything people send our way will go to Cure.org," said Peterson. "All we ask is that people be patient with us as we hope to be really busy responding to these requests."
(PRWEB) May 05, 2015
Blogelina announced the launch of its 1000 Mom Blog Makeovers Project (#1000momblogmakeovers) today, which will give away a blog makeover valued at $170 to the first 1,000 respondents who nominate their or someone else's blog and make a donation of $10 or more to Cure.org.
Blogelina founder Tanya Peterson says the inspiration for the project came at a recent concert she and her husband attended. "While we were at one of Chris Tomlin's 'Love Ran Red' concerts, Chris talked about his work with Cure.org and their ministry really struck my husband and I," Peterson said. "They are doing amazing work to help heal children in other countries, who otherwise would not have hope for the surgeries they need." These are surgeries that are very commonplace and easily accessible here in America. They're surgeries that can totally re-shape the life of a child.
Since that concert, Peterson had been thinking of a way she could use Blogelina to bless the Cure.org ministry and decided a Mother's Day Project to makeover 1,000 mom blogs was it.
Details of the Mom Blog Makeover Project
To qualify, any mom blogger (or a friend or family member) who wants her blog made over just has to be one of the first 1,000 people to go to blogelina.com/1000makeovers, donate $10 or more, and fill out the form Blogelina sends. Blogelina will schedule makeovers, install one of its beautiful new themes, set up the blog on Wordpress, and provide a free year of hosting – a $170 value for a donation of $10 or more.
Blogelina will give 100% of the donations it receives to Cure.org.
"Everything people send our way will go to Cure.org," said Peterson. "All we ask is that people be patient with us as we hope to be really busy responding to these requests."
Peterson hopes to raise at least $10,000 for Cure.org through the 1000 Mom Blog Makeover Project.
ABOUT BLOGELINA
Blogelina was founded in 2009 by Tanya Peterson as a community for women who love to blog. Tanya's vision in creating Blogelina is to create a fun way for bloggers to interact with each other, build relationships, network and learn more about blogging. Blogelina's four-week online blogging class, "Profitable Blogging for Beginners" is one of the site's most popular offerings, however daily blogging tips and an extensive archive of blogging articles are offered free of charge. Peterson hopes the 1000 Mom Blog Makeovers Project will make a difference in the lives of children around the world in need of simple, life-altering surgeries. #1000MomBlogMakeovers
ABOUT CURE.ORG
CURE is a non-profit organization that operates charitable hospitals and programs in 30 countries worldwide where patients experience the life-changing message of God's love for them, receiving surgical treatment regardless of gender, religion or ethnicity. Since opening its first hospital in Kenya in 1998, CURE has had over 2.5 million patient visits, provided over 180,000 life-changing surgeries, and trained over 7,200 medical professionals. Its #TeamTomlin campaign is running in tandem with Chris Tomlin's #LoveRanRed tour, and aims to raise awareness of CURE and donations for children to provide surgeries that will enable them to dance.