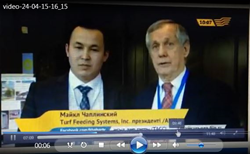 Water and Food Production are as Valuable as Oil for Kazakhstan
Houston, Texas (PRWEB) May 06, 2015
Michael Chaplinsky, spoke last week at the 2015 Eurasian Business Forum in Almaty Kazakhstan and introduced his new business partner, Mr. Aslanbek Majitov, the president of Global Water and Soil Solutions (GWSS).
This new Kazakhstan Company is focused on implementing products and technologies of sustainable agriculture and water efficiency to increase crop production while reducing irrigation water use.
Kazakhstan is the largest and most productive economy in Central Asia and is the largest agriculture economy in Eurasia. Kazakhstan has large areas of arid land that will use irrigation and these technologies to produce food.
Michael Chaplinsky, the founder and president of Turf Feeding Systems, has worked for over 28 years producing fertigation systems, and implementing sustainable agriculture and highly efficient use of irrigation water. His expertise in irrigation and fertilizer injection has brought soil health into equation of growing plants.
Chaplinsky states, "Soil health is the secret to reduce irrigation water use up to an incredible 50% and fertilizer and chemical use up to 60%, while increasing crop production." His work is changing irrigation and agriculture, like Steve Jobs changed the world by combining cellular phones and computers and creating the Apple IPhone.
Chaplinsky states, "I am very excited about GWSS, our new partnership in Kazakhstan, creating a new sustainable industry in the strongest economy in Eurasia and expanding across the region increasing crop production, while reducing water use and costs.
Michael Chaplinsky was interviewed on KZ National TV while at the EBF 2015.
Turf Feeding Systems is planning to duplicate a manufacturing and service operation with Global Water and Soil Solutions later this year in Kazakhstan. Chaplinsky states, "My goal is for GWSS to manufacture the best fertigation systems in Kazakhstan, with the best customer support, and provide the best fertilizer and organic soil nutrients to grow healthy plants and soil using less water and chemicals".
Mr. Chaplinsky has a number of projects in Ghana West Africa, Kazakhstan, Uzbekistan and in Bali as well as with olive growers in Texas. He is an expert in improving poor soils, sand, and sodium issues in the soil.
He is looking for serious partners to implement sustainable agriculture anywhere in the world. Interested parties can contact Chaplinksy and join his e-newsletter by clicking here and completing the form.
Bio:
Michael Chaplinsky – President / Founder Turf Feeding Systems
Turf Feeding Systems - Houston Texas – USA - The world leader in packaged fertigation systems (fertilizer injection into irrigation) for golf, sports fields, landscapes, resorts and agriculture.
Mr. Chaplinsky has worked for over 28 years implementing water efficiency and sustainability into all types of irrigated projects around the world. He speaks at many conferences and lectures on sustainable soils, landscapes, golf and agriculture.
Mr. Chaplinsky has worked with the top scientists and engineers on project that include construction, revegitation, bio-remediation and beach erosion. He brings technologies and practices together to promote plant and soil health, and create the values and benefits of sustainability.