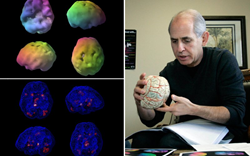 "It is now possible to differentiate two common disorders in our Veteran population that desperately need and deserve more help" - Dr. Daniel Amen, Amen Clinics
Orange County, CA (PRWEB) May 05, 2015
A new study by scientists from Amen Clinics, UCLA, Thomas Jefferson University and the University of British Columbia shows that with a 94% accuracy rate, through brain imaging technology, Traumatic Brain Injury (TBI) can be separated from Post-Traumatic Stress Disorder (PTSD). The study has just been accepted for publication in a special Veterans' Issue of the journal, Brain Imaging and Behavior.
Psychiatrist Daniel Amen, senior author of the paper and founder of Amen Clinics where the study was performed, says that it is now possible to "differentiate two common disorders in our Veteran population that desperately need and deserve more help. Timely diagnosis leads to more successful treatment and improved outcomes and lives."
More than 400,000 military personnel and veterans have been diagnosed with PTSD or TBI since 2001, and many have been diagnosed with both. Unfortunately, these debilitating brain issues can be difficult to distinguish. The available treatments of PTSD and TBI are vastly different. Moreover, the treatments for PTSD may be harmful or, at best, not helpful for those with TBI and vice versa.
The need for a diagnostic tool to reliably distinguish PTSD from TBI in Veteran populations is urgent. Prior attempts to use imaging studies such as CT scan, MRI, and conventional x-rays have been unsuccessful. Amen's study uses Single Photon Emission Computed Tomography (SPECT) that looks directly at cerebral blood flow and indirectly at brain activity.
Retired Marine Corps Captain Patrick Caffrey, who sustained three blasts resulting in brain injuries, as well as symptoms of PTSD, says of the results of his SPECT images, "… it started an irreversible domino effect of exponential personal growth. The (SPECT) scan was the only reason I admitted I had both TBI and PTSD, I wouldn't have admitted it if I didn't see it. Ultimately, the scan was my gateway tool to a set of brain healthy strategies that I still use to have a better brain and a better life."
In virtually all psychiatric clinics worldwide, diagnoses are made by talking to patients and looking for clusters of symptoms. Without looking at the brain, many important pieces of information are missed, which could mean treating patients incorrectly, ultimately leading to prolonged and needless suffering. This study shows that brain-imaging like SPECT can add valuable information to clinicians seeking to move diagnosis and treatment of mental disturbances from guesswork to pure science.
Dr. Amen founded Amen Clinics in 1989 in Orange County, CA, with locations in San Francisco, Atlanta, New York City, Seattle/Bellevue, and Virginia. He has the world's largest collection of brain scans relating to behavior: over 100,000 scans on patients from 111 countries. He is a Distinguished Fellow of the American Psychiatric Association and is the author of over 30 books, 60 professional articles, and is a 10-time New York Times Bestselling author.
For more information visit amenclinics.com. Follow Amen Clinics on Social Media: Facebook at AmenClinic; Twitter @amenclinics; YouTube at AmenClinic.
For media inquiries and interviews please contact Kelly Bennett of Bennett Productions Unlimited, PR/Marketing/Branding Kelly(at)BPUnlimited(dot)com or (949) 463-6383.
Kelly Bennett, President
Bennett Productions Unlimited
(949) 463-6383
Kelly(at)BPUnlimited(dot)com
http://www.BPUnlimited.com