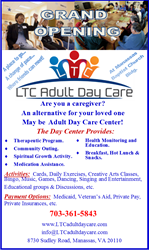 Manassas, VIrginia (PRWEB) May 05, 2015
Adult Day Healthcare services will once again be available in Manassas. Starting in May, the LTC Adult Day Care Center will begin operations in the renovated facilities formerly home to the Hearth and Home Adult Day Healthcare Center. The center is located at 8730 Sudley Road within the Manassas Baptist Church campus.
LTC Adult Day Care Center will provide seniors in Manassas and surrounding areas with a viable alternative to long term care placement. The introduction of innovative approaches to senior support is rare, but LTC has created a, person centered approach to providing a broad range of unique adult day care services. Seniors are given the opportunity to decide the level of care they need to remain independent. If needed, the Adult Day Care services can be supplemented with in-home care services also available through an LTC sister company. Free in-home consultations can be arranged to establish the level and type of support potential participants determine they require. Seniors or their family members can contact an LTC representative 24 hours a day, seven days a week by dialing 703-361-5843.
As an alternative to long term home health care services, Adult Day Care provides a wide range of services, stimulating activities, healthcare monitoring, socialization and supervision for higher functioning to lower functioning adults during the week day. The support is especially designed to support those adults with Alzheimer's and dementia. As reported by the National Adult Day Services Association, nearly half of all day care participants nationally have some level of dementia; however, other chronic diseases among participants include chronic hypertension, physical disability, cardiovascular disease, diabetes, mental illness and developmental disability.
Abdi Gelle, the president of LTC Adult Day Care services, noted that the center in Manassas will provide enriched daily activities designed to nurture impaired adults with love and respect. The goal established by Mr. Gelle for LTC is to work with participants to design person centered support that will maintain their highest level of independence while preserving their dignity and enhancing their quality of life. Participants will enjoy
the spacious and secure facility that is both comfortable and visually appealing. A private and secure outdoor courtyard is an added feature of the facility. The professionally trained staff is dedicated to maintaining a safe, supportive and caring environment. Additionally, the day care services are significantly more cost effective than assisted living and other forms of long term care for people of all ages that are unable to be at home
without support.
LTC is providing many payment options including Private Pay, Long-Term Care Insurance, Worker's Compensation Insurance, Medicaid, and the Veteran-Directed Home and Community-Based Services (VDHCBS) Program
For more information on the LTC Adult Day Care center and adult day care services, call 703-361-5843 or email to info@LTCadultdaycare.com