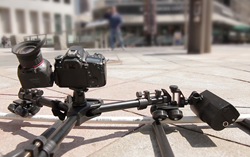 We are excited to see what footage our customers create with the MOOVIT™.
Loveland, Colorado (PRWEB) May 06, 2015
Cinerails, designers and manufacturers of lightweight and portable motion support systems for video and still cameras used by videographers and filmmakers, just launched a Kickstarter campaign to raise awareness and funding to produce MOOVIT™ a compact, motorized drive wheel that attaches to cameras, camera dollies and sliders to produce smooth, variable speed motion with smart phone control. Created by Network TV cameraman Danny Dodge, the MOOVIT™ is the second in the Cinerails line of products to seek funding through Kickstarter. In 2013, Dodge successfully funded his first Kickstarter project called SnapTrack Cinerails. The light weight camera dolly system used in filmmaking and video production was a success and from that grew the company now known as Cinerails. The product is used by networks, filmmakers and videographers world wide.
To add value to their existing product, the company created the MOOVIT™ to allow on-the-go videographers and filmmakers the ability to add smooth, variable speed motion to their footage quickly, efficiently and with multiple rigging options. By eliminating complicated menus and control panels the company made selection of speed and direction of travel as simple as turning a dial or flipping a toggle switch. In addition, advanced control of the unit is also possible through Bluetooth™ control over a smart phone. The MOOVIT™ quickly connects to to the Cinerails dolly, Dana Dolly and many other camera dollies. It can also be configured into a stand alone table top dolly using the Cinerails WheelyBar™.
With the high quality that filmmakers come to expect in mind, the MOOVIT™ was designed to quietly run for up to three and a half hours on a single replaceable 9 volt battery using highly efficient pulse width technology. An additional power port allows use of external power when longer run times are necessary.
When attached to the Cinerails camera dolly, the MOOVIT™ has the power to efficiently move a 70 pound payload along the track. This would be equivalent to a full size video camera and tripod. Additionally, the MOOVIT™ will automatically reverse direction at the end of the track using TrackStops™ for hands free operation. This is perfect for music video production, interviews and stage shows. For the creative filmmaker, the super slow speed setting on the MOOVIT™ is perfect for capturing time lapses of clouds and stars.
Having worked in filmmaking and video production for over 30 years, Dodge said he's tried just about everything on the market in an attempt to make his job better, more efficient and more profitable. Dodge hadn't planned on getting into manufacturing, however after numerous requests from friends and colleagues asking him to make his dolly system for them he decided to place it on Kickstarter as a project to raise funds to allow him to put the dolly into production. In just two days Dodge raised over $23,000 dollars. He says that he is tremendously thankful to the Kickstarter community for all their support and is amazed at the success of the project. Since announcing his new Kickstarter project to raise funds to produce the MOOVIT™, Dodge says he's received numerous texts and emails asking when and how to get the MOOVIT™. Dodge is thrilled with the response and is very excited at the possibility of giving back to his community of production professionals and making his "tricks of the trade" available to all.
The MOOVIT™ comes in three configurations: 1) By itself (ready to rig) 2) With a dolly mount 3) With the
WheelyBar™ for operation as a stand alone table top dolly.
Early MOOVIT™ orders are anticipated to be delivered in mid August and the balance of the Kickstarter orders are expected to be fulfilled by the end of August. There are several Kickstarter pledge packages available here on our project page.
About Cinerails
Cinerails is a group of individuals dedicated to building highly efficient and productive tools to give both the professional and aspiring filmmaker the ability to create exceptional footage. We hand assemble our products in Loveland, Colorado to assure top quality in everything we make. Film and film making is our passion as well, and we like to share our trade secrets. Our products are available online at Cinerails.com