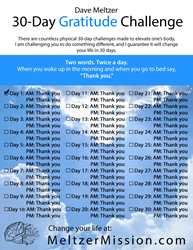 I personally use the Gratitude Challenge every day, it is how I begin and end my day, and yes it has changed my life!" -Greg S. Reid
IRVINE, Calif. (PRWEB) May 06, 2015
High profile sports executive and national best selling author of Connected to Goodness, David Meltzer, has launched a new fully-featured website MeltzerMission.com. The new site has extensive content including the 30-Day Gratitude Challenge that David advocates is the simplest way to change your life.
"David Meltzer has brilliantly codified his principles to success in his book Connected To Goodness," said Greg S. Reid, founder of Secret Knock and best-selling author, "David goes an extra step with providing a creative and visually stunning Gratitude Challenge that aims to empower readers with gratitude. I personally use the Gratitude Challenge every day, it is how I begin and end my day, and yes it has changed my life!"
As part of David's objective to empower others to empower others, MeltzerMission.com is showcasing the, "30-Day Gratitude Challenge" which participants say "thank you" in the morning and at night for 30 straight days to create this habit. Additional content includes previous press appearances on national publications such as ESPN, Bloomberg, Forbes, and ABC.
"The Meltzer Mission is the overlying theme to all of my trainings, books, and principles," says author, CEO, and corporate speaker David Meltzer, "this new site is aligned with my goals and principles. It will give the readers a good opportunity to interact with my work and dive deeper in manifesting everything they desire rapidly and accurately."
MeltzerMission.com additionally informs visitors about booking information, book purchases, and joining his daily message in which David sends out a motivational quote each morning. You can visit the website at: MeltzerMission.com to start the Gratitude Challenge and change your life.
About David Meltzer
David Meltzer is CEO of Sports 1 Marketing, a firm that he co-founded with Hall of Fame Quarterback Warren Moon, and a national top ten best-selling author of Connected To Goodness. Sports 1 Marketing is a sports and entertainment firm that leverages the $2 billion in relationship capital surrounding the world's largest sporting events. Previous and current projects include: The Master's, Pro Bowl, Super Bowl, ESPYs, Pro Football Hall of Fame, the Unstoppable Foundation, any countless others. Prior to Sports 1 Marketing, David was the CEO of the world's most recognized sports agency, Leigh Steinberg Sports and Entertainment. David is an international public speaker who is profiled by national publications such as Forbes, ESPN, and Bloomberg. David is a recipient of the Ellis Island Medal of Honor and knighted by the order of St. John of Jerusalem as Sir David Meltzer.