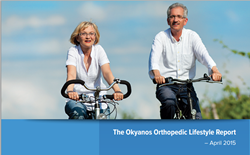 Although today's advanced medical care has afforded patients the ability to manage these symptoms of their orthopedic conditions, many are left with a quality of life impeded by restrictions in mobility.-- Carol Montgomery, VP Marketing Okyanos
Freeport, Grand Bahama (PRWEB) May 05, 2015
Okyanos, the leader in cell therapy, published its Orthopedic Lifestyle Report today. The study was conducted to determine the emotional impact and lifestyle influence orthopedic conditions such as osteoarthritis and sports-related injuries have had on those affected. The survey found chronic pain and stiffness was the most prevalent symptom reported at 73%, followed by 66% of respondents experiencing reduced functionality such as walking, standing and bending over. Over half of respondents, 56%, said they used narcotics or pain killers as a remedy for the pain.
According to Okyanos VP Marketing Carol Montgomery, "Although today's advanced medical care has afforded patients the ability to manage these symptoms of their orthopedic conditions, many are left with a quality of life impeded by restrictions in mobility. Like heart disease patients, orthopedic patients appear to be redefining a "normal life" to soldiering on with the use of pain medications, devices and surgical transplants."
Surprisingly, a higher number of people reported being kept up at night with orthopedic discomfort than the heart condition respondents from last quarter's heart disease study. However, like heart patients, the majority of patients consider their conditions "manageable with care" and are emotionally resolved to carry on and determined to improve. 68% think their treatment could be better and over 60% would consider an alternative option if backed by criteria such as rigorous clinical trials and scientific data.
Unlike heart disease, orthopedic conditions are not generally perceived as life threatening, thus many patients accept the use of pain meds, injections and restricted activities if it gives them a way to manage their discomfort. Although 41% of respondents elected to have surgery for their condition and 30% have an implanted device for a knee or hip condition, once the condition is defined or considered to be severe, patients are less tolerant and are more interested in an alternative option, such as adult stem cell therapy.
This quarter's Okyanos Lifestyle Report summarizes the lifestyle challenges for people living with a chronic orthopedic condition and is based on information from 409 414 respondents to a survey of patients with various orthopedic issues. The study was conducted in the US March 16th through March 30th, 2015 representing 69% in the 55 to 75 age range.
For a copy of the Okyanos Orthopedic Lifestyle Report that reveals the emotional toll and lifestyle impact on patients in the United States, visit: http://okyanos.com/info/okyanos-orthopedic-lifestyle-report/
Operating the only fully licensed, private medical facility worldwide that can offer adult stem cell therapy derived from a patient's own body fat in a highly regulated environment, Okyanos provides a new standard of care in the first-of-its-kind facility, built to meet and exceed US surgical standards under the guidance of a world-class cell-therapy medical team and renowned Medical Advisory Council.
Just 50 miles from US shore, Okyanos cell therapy is available to patients suffering with the daily discomfort of serious and debilitating conditions like rheumatoid arthritis, and osteoarthritis and degenerative joint disease. This innovative treatment utilizes adult stem cells (from your body fat) which have the ability to decrease inflammation, repair damaged tissue, facilitate better cell-to-cell communication and stimulate new blood vessel growth.
Patients can contact Okyanos to learn more and request a free consultation at http://www.Okyanos.com or by calling 1-855-659-2667.
About Okyanos: (Oh – key – AH – nos)
Based in Freeport, Grand Bahama, Okyanos brings a new standard of care and a better quality of life to patients with coronary artery disease, tissue ischemia, autoimmune diseases, and other chronic neurological and orthopedic conditions. Okyanos Cell Therapy utilizes a unique blend of stem and regenerative cells derived from patients' own adipose (fat) tissue which helps improve blood flow, moderate destructive immune response and prevent further cell death. Okyanos is fully licensed and regulated under the Bahamas Stem Cell Therapy and Research Act and adheres to U.S. surgical center standards. The literary name Okyanos, the Greek god of the river Okyanos, symbolizes restoration of blood flow.