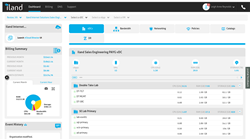 'EMA believes that iland is making a game-changing move to address this critical industry requirement, with powerful options for versatile data access, reporting and accountability,' said Dennis Drogseth, VP, Enterprise Management Associates.
HOUSTON (PRWEB) May 05, 2015
iland, an award-winning enterprise cloud hosting provider, today announced new advanced management and reporting capabilities available within its Enterprise Cloud Services (ECS) portal, powered by a big data backend. The new functionality transforms the billions of points of raw data living within the cloud into actionable intelligence that customers can use to manipulate resources, analyze trends and share information. This far-reaching functionality offers the strategic insights necessary for cloud administrators to be more proactive in managing their expanding IT footprints.
"Companies are increasingly moving to and expanding their public cloud environments, and the efforts need to be a shared experience between enterprise cloud customers and their cloud service providers," said Dennis Drogseth, vice president, Enterprise Management Associates. "This means data sharing to optimize cloud resources for performance and service delivery across environments. EMA believes that iland is making a game-changing move to address this critical industry requirement, with powerful options for versatile data access, reporting and accountability. It should be a wake-up call for the many, more commoditized cloud service providers who still seem to believe that 'cloud' is a synonym for obscuring light based on their convenience versus the very real needs of their customers."
"During the virtualization era, IT teams began sacrificing visibility into their environments, losing elements of organization and control," said Julien Anguenot, VP of software engineering at iland. "The proliferation of cloud only compounded these issues, causing workloads and teams to grow while public cloud management tools did nothing to share meaningful usage, cost or performance data. With iland's ECS portal enhancements, our development teams chose to turn the lens of big data directly into the cloud, using this disruptive technology to deliver both the intuitive visibility companies need to truly assess their global environments as well as the intelligence required to do something about it."
With iland's new ECS portal enhancements, companies can:

Speed access to data via full text search
As today's IT environments continue to grow in complexity, cloud workloads are often created with disorganized directories, inconsistent naming conventions and other poor practices that make strategic cloud management impossible. As a result, teams frequently waste significant resources trying to gather the information they need on said workloads to gain a portfolio view of their entire cloud footprint.
Built on the open source Cassandra global data warehouse, iland's ECS portal indexes every piece of data within an environment – from the virtual machine (VM) name, to change activity, to performance, to firewall rules and beyond. Mirroring the type of search available on consumer technology platforms, customers can now do instantaneous full-text searching across their entire cloud environment, and even set alerts based on those results. Consequently, potential critical events can easily be triaged and addressed.
Reduce conflicts as cloud teams grow
Teams of cloud administrators are growing right alongside the size of cloud footprints, and with them grow the number of tools used to manage and configure workloads. Creating an aggregate view of who made what changes to an environment is essential to successfully scaling a cloud footprint.
The ECS portal now consolidates data from multiple underlying systems into a single pane of glass, increasing visibility and reducing conflicts by enabling cloud administrators to easily see all the actions and jobs running on each VM in their domain.
Minimize errors with correlative intel
In order to optimize resources and forecast costs, administrators reference either historical performance charts or their own memory to recall whether a spike or drop was associated with application behavior or a resource change. Now, iland maps event histories onto performance graphs, providing customers with "stock split"-like markers at critical points to remove the guess work of retrospective thinking. This not only saves administrators time and minimizes erroneous conclusions, but also enables varying users to accurately resize workloads, regardless of their historical knowledge.
Protect business with Zerto disaster recovery integration
Enabling customers to better plan disaster recovery testing and configuration activities, iland has extended its integration of Zerto Virtual Replication software within the ECS portal. In addition to the test and failover execution capabilities introduced in the portal's last release, the new functionality reveals performance trends based on historical information about recovery point objectives and input/output operations per second to provide a broader historical context for past failovers and tests.
In support of the Zerto v4.0 release, iland has upgraded its Disaster-Recovery-as-a-Service (DRaaS) environment and will soon support failover from on-premise Microsoft Hyper-V environments.
"At Encoda, we realized that in order to deliver our vision of re-engineering the Medical Insurance Billing world, our focus needed to be on the software platforms we deliver and not on the infrastructure to support them," said William Cox, president & CTO of Encoda. "With iland as a partner, our infrastructure growth has been a straightforward process with our needs being cared for by a team of iland support and client management after our own hearts. As a former computer engineer, data center director and now executive and owner, it was not easy for me to allow an external group to provide an infrastructure a few years ago. Today we have a hard time imagining a solution that does not include the stability, power and ease of use of our iland infrastructure via the iland ECS portal."
iland is ranked as a leader in Forrester Research, Inc.'s report entitled, "The Forrester Wave™: Disaster-Recovery-As-A-Service Providers, Q1 2014." Forrester refers to iland as "the dark horse champion" in the report. In the research firm's evaluation, iland received the highest scores possible for its core DRaaS offerings, recovery objective capabilities, platform and application support, data resiliency and risk mitigation, security, value proposition and vision, as well as pricing, service levels and contract terms.
For more information on iland's enterprise cloud and disaster recovery services, go to:

About iland
With data centers in the U.S., U.K. and Singapore, iland delivers proven enterprise cloud solutions that help companies do business faster, smarter and more flexibly. Unlike any other provider, iland's technology and consultative approach mean anyone–regardless of expertise, location or business objective–can experience the benefits of a hassle-free cloud. From scaling production workloads, to supporting testing and development, to disaster recovery, iland's secure cloud and decades of experience translate into unmatched service. Underscoring the strength of its platform, the company has been recognized as VMware's Service Provider Partner of the Year, Global and Americas; is part of the Cisco Cloud Managed Service Provider Program for IaaS and DRaaS; and partners with other industry leaders including Zerto and Veeam. Visit http://www.iland.com.
Trademarks
All registered trademarks and other trademarks belong to their respective owners.
# # #