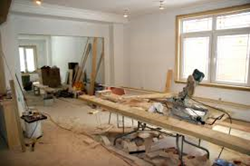 Realize that remodeling takes time and patience
Chicago, IL (PRWEB) May 04, 2015
With spring upon us, many first-time home buyers have already purchased a property but realize that repairs/upgrades must be made. Peoples Home Equity offers a few tips on how to make the process easy and fun.
Know the numbers
Budgeting for remodeling projects is essential. Homeowners often go over budget when making upgrades; it's essential to plan ahead on how much one is ready to spend. Couples may be split over how much to spend so it's important to compromise and recognize the reality of the cash at hand. With a financial plan in place, one can easily calculate how much they are willing to spend on tiles, faucets, paints, floors, carpets, granite countertops, canned lighting, etc. That said one should also take into account the benefits from purchasing more expensive appliances which save on energy costs. Once this is taken into consideration, it may be worth spending the extra money. If the property is already owned free and clear, then consider a home equity line of credit as a way to finance the remodeling project at a low interest rate.
Consider hiring an interior decorator
If planning and installing upgrades into the home or condo sounds intimidating, consider hiring an architect. Architects can design a fabulous interior with the materials and labor included. This service comes at a premium from a do-it-yourself approach; however the results can be better with much less headache. If one chooses to use an architect make sure to verify his or her previous work to be confident the proposed design and installation will be satisfaction.
Realize that remodeling takes time and patience
Quite often, remodeling can be just as much a hassle as moving. Whether it's the homeowner doing the installation or someone else, the time remodeling takes out of family, social, or work time can be burdensome, so be prepared for the project. The time and effort will be well worth the investment since upgrades always add value to a property and make it much more comfortable to live in. The homeowner should stow away valuable possessions while at work if an outside vendor is working on the property
If in need of a mortgage, contact a Peoples Home Equity loan officer today at: 262-563-4026