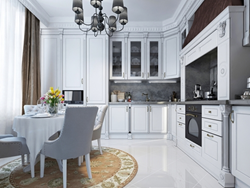 Make sure kitchen surfaces shine, from countertops to the front of stainless steel ovens and refrigerators
Chicago, IL (PRWEB) May 04, 2015
While home sellers often focus on tidying up their living rooms and bedrooms to get ready for showings to potential buyers, they may neglect the most crucial area of the house: the kitchen. Not only is the kitchen considered the heart of the home to many, The Federal Savings Bank knows that first-time home buyers and other people looking for their ideal property may put greater importance on this room when making purchasing decisions.
To ensure the kitchen is in tip-top shape and appeals to house hunters, homeowners could evaluate and overhaul its look.
The following are a few tips compiled by The Federal Savings Bank to beautify the kitchen for home showings:
Clean kitchen equipment
While homeowners may think that the kitchen is just another quick stop for potential home buyers on the way to the rest of the house, visitors may make a closer inspection at appliances, cabinets and more. Cleaning the insides of refrigerators and other equipment, such as the fume hood above stoves, is a good way to prepare for showings.
Polish the floor and shiny surfaces
In addition to having a clean kitchen, it should also be polished. Make sure kitchen surfaces shine, from countertops to the front of stainless steel ovens and refrigerators
Replace hardware
Although homesellers may not think that the look of their kitchen needs updates, even small changes could increase the value of the home and pique the interest of buyers. Remodeling Magazine reported a minor kitchen remodel, including switching out hardware, could result in a return on investment of 82.7 percent.
Install new appliances
Homesellers could also significantly improve their kitchen by taking out their old appliances and putting in brand new ones. A major kitchen remodel, in which energy-efficient appliances are installed, could allow homeowners to recoup 74.2 percent of their home improvement costs.
Home sellers planning ahead to put their home on the market can contact The Federal Savings Bank, a veteran owned bank, to learn more about their mortgage options for their next house.