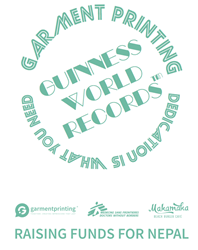 "At Garment Printing we love challenges & this event is the start of a new Era for my business. Come & enjoy! between 12-2pm" explains Gavin Drake, Garment Printing, CEO.
london, barcelona (PRWEB UK) 6 May 2015
The challenge is just the start of a series of GUINNESS WORLD RECORDS ™ attempts by Garment Printing. Selected VIP invitees, and members of the public will be invited to attempt this GUINNESS WORLD RECORDS ™ which will take place next to the world famous Barceloneta Beach at Makamaka Beach Burger Cafe on Saturday, May 9th 2015 between 12pm and 14pm. All funds raised will be donated to the charity Doctors Without Borders. Read the rules of the challenge here.
The current record stands at 31 t-shirts in 1 minute. The Challenge Rules state challengers must use commercially available t-shirts, and these can be any combination of short and long-sleeved styles, and differing sizes. A friend or assistant can help pull down the t-shirts as they are put on. Only t-shirts, which are fully on, when one minute has elapsed, may be counted to the final score. T-shirts must be put on one at a time.
Garment Printing will supply all the printed tshirts, and Makamaka will be serving their usual selection of funky cocktails and burgers as well as a special cocktail for the day dedicated to raising funds for Doctors Without Borders. To be a World Record Holder we believe that "Dedication is What You Need" and this is the slogan of the day and event!
The event will be attended and hosted by comedian Neg Dupree combining excitement and fun, and co hosted by Judith Secanell, with music support from London DJ Nathan E Drake.
GUINNESS WORLD RECORDS ™ has been inspiring, engaging and entertaining since 1955 and it is the universally recognised authority on record-breaking achievements.
Garment Printing is an industry leading t-shirt printing and clothing customisation company. With offices in Spain and across the UK, providing servers for global brands, fashion brands, bars, cafés, restaurants or small businesses, they offer customised clothing and promotional products for you and your business.
Makamaka Beach Burger Café is a place where you can meet friends, share good times and enjoy gourmet burgers and cocktails. Along with the surf lifestyle & good vibes Makamaka also participates in various charity events.
This is a chance to attempt and hopefully become a GUINNESS WORLD RECORDS ™ holder. In Garment Printing and Makamaka Beach Burger Cafe they really like challenges and what better way to share them with friends than by helping others in need. Just remember…Its time to be a Record Breaker!
Garment Printing.com is an industry leading promotional and customised clothing company with offices across the UK and in Barcelona, created to maximise the efficiency of marketing teams & agencies, and also to offer great discounts and donations to Charities and good cause campaigns. Founded by Gavin Drake and with over 15 years experience and trusted by global brands, such as Mindshare, Coca Cola, Skype, Google and Saatchi and Saatchi, it simplifies the printing process with express turnaround times and unrivalled customer service. A complete range of bespoke customisation techniques is offered including screen-printing, embroidery and the latest direct to garment t-shirt printing and dye sublimation all over t shirt printing technology. Our international integrated supply chain enables us to out perform our competition, making all time critical orders possible. Garment Printing's agency work involves consultation to global brands; marketing teams and promotional agencies, to ensure all printed clothing campaigns are realistic, within budget and effective. Our multilingual dedicated teams at Garment Printing work as extended members of your business to efficiently exceed customer and client expectations.
For any press enquiries please contact:
Gavin Drake
Email: Gavin(at)garmentprinting.co.uk
Phone number: +44 (0) 207 101 9356