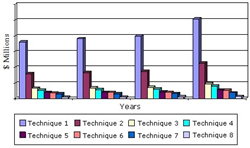 The global market for chromatography reagents is expected to reach nearly $11 billion by 2019.
(PRWEB) May 05, 2015
BCC Research reveals in its new report on chromatography that new technologies and emerging chromatography techniques are bolstering growth in the market. Other key market drivers include the increasing number of conferences, growth in government investments, increased spending in research and development, increasing competition and patent expiries.
Technological enhancements in column design, along with improved performance of resins and reagent, have increased the use of chromatographic techniques among a growing base of diverse users. The global market for chromatography reagents is forecast to reach $11 billion in 2019, up from almost $8 billion in 2013, reflecting a CAGR of 5.2% during the forecast period.
The market for gas chromatography is expected to grow at a CAGR of 5.3% while the thin layer, affinity, and ion exchange chromatography markets are forecast to grow at CAGRS of 5.4%, 5.2% and 5.2%, respectively, in the next five years.
Chromatography technique, as a separation method, plays an important role in the fields such as pharmaceutical, biotechnology, environment, clinics, forensics and research laboratories for quantitative and qualitative analysis of raw materials, drug substances, drug products and compounds in biological fluids.
"The chromatographic techniques of separation make them ideal for tests/analysis in fields such as pharmaceuticals, chemicals, toxicology and many others," says BCC Research analyst Shalini S. Dewan. "As various global disease treatments are using innovative medical drugs with exact chemical composition and purity, new and improved chromatography techniques are becoming more inevitable. These include the number of forensic techniques for detecting illicit drugs, detecting the poisonous contents to improve environmental conditions, etc."
Global Markets for Reagents for Chromatography provides an overview of the current and forthcoming characteristics of the global market for the chromatography reagents market. The report also provides the compounded annual growth rate for the forecast period 2014 to 2019 for each type of chromatography technique.
Editors and reporters who wish to speak with the analyst should contact Steven Cumming at [email protected]
About BCC Research
BCC Research publishes market research reports that make organizations worldwide more profitable with intelligence that drives smart business decisions. These reports cover today's major industrial and technology sectors, including emerging markets. For more than 40 years we've helped customers identify new market opportunities with accurate and reliable data and insight, including market sizing, forecasting, industry overviews, and identification of significant trends and key market participants. We partner with analysts who are experts in specific areas of industry and technology, providing unbiased measurements and assessments of global markets. Recently selected as the world's greatest market research company, BCC Research is a unit of Eli Global, LLC. Visit our website at http://www.bccresearch.com. Contact us: (+1) 781-489-7301 (U.S. Eastern Time), or email [email protected]