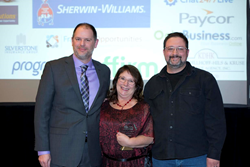 Tucson, AZ (PRWEB) May 05, 2015
Sherri Gillette, the owner of Caring Transitions of Southern Arizona, has been recognized by the national Caring Transitions corporate team with this year's Pioneer Spirit Award.
Caring Transitions of Southern Arizona specializes in organizing and managing senior moves, downsizing, and liquidating belongings through estate sales and online auctions. Caring Transitions of Southern Arizona serves Tucson, Oro Valley, Saddlebrooke, Green Valley, Sahuarita, Corona de Tucson, Sierra Vista and the surrounding communities. On a national level, Caring Transitions is the largest resource specializing in these types of services.
Caring Transitions corporate President Chris Seman said owners who are recognized with the annual Pioneer Spirit Award have a genuine passion for helping people – both clients and employees. This year, the award also went to the company's more profitable franchise.
"Sherri has developed a strategy that has helped many offices to assist clients, solving the question of what do we do when the client has too few items to hold an estate sale, by pioneering the multi-client estate sale for Caring Transitions. Sherri's team is passionately involved as an On-Site Training Center, truly helping to shape the future of Caring Transitions through intensive in field training of the Caring Transition concepts for new offices," Seman said.
"She also has a true drive to be successful and is motivated to be the best at what she does," he added.
Gillette said supporting other franchise offices and offering her business as an On-Site Training Center is something that came naturally to her and her team.
"We believe in the value of fully supporting our clients with every part of the powerful Caring Transitions model. So, we appreciate being able to share our commitment to the southern Arizona market with others from across the country - because we want to inspire them to make the same commitment to their clients in their markets. When everyone across the country begins using all of the available opportunities to serve our senior clients - we all win," Gillette said.
"The Pioneer Spirit Award is meaningful because it validates the good work of our team. We take the business of serving seniors very seriously - so to be recognized as doing well - is rewarding," she added.
Gillette runs the business with her husband Matt, General Manager Ann Williams, Online Sales Manager Jeff Smith, Estate Sales Manager Cheree Miller, Finance Manager Ben Allen and a team of more than 18 full-time and part-time employees. The team members live in the Tucson area and have been teachers, researchers, executives, writers, counselors, landscape architects, foster parents, entrepreneurs, managers, movers, caregivers, housekeepers, photographers, artists and mediators.
"We have also been wives, mothers, husbands, fathers, daughters, sons, granddaughters and grandsons and have helped our own beloved parents and grandparents navigate through many of life's changes, so we can assure our clients that we will act as their compassionate onsite advocate, keeping their best interests at heart," Gillette said.
In addition the actual work the company does every day, Gillette said owning this type of business has impacted her on a personal level.
"I have gained great humility and even greater respect for the senior community. I am smarter, kinder, gentler, and better because of their impact on me personally. I am also pleased to be a solid employer in this market. I believe we have the best team members and I am very proud of how they care for our clients, their treasures, and their dignity. We love what we do and who we serve," she said.
Caring Transitions is a trusted and highly respected national company leading the way in senior relocation, household liquidations and estate sale management in more than 150 locations across the United States. Caring Transitions is part of the International Franchise Association, the Small Business Association's Franchise Registry, VetFran and Minority Fran.
For additional information about Caring Transitions of Southern Arizona, call (520)262-1495, email SGillette(at)CaringTransitions(dot)net or visit http://www.CaringTransitionsTucson.com.
About Caring Transitions
Caring Transitions, founded in 2006, is the first national franchising concept specializing in senior relocation and transition services. With more than 150 locations throughout the United States all owned and operated by Certified Relocation and Transition Specialists, Caring Transitions provides clients with supportive moves, auctions, rightsizing and transitions. This includes expert advice plus a well-executed transition plan beginning with the initial sorting of personal belongings through packing, shipping and selling of items to the final clearing and cleaning of the property. For more information, visit http://www.caringtransitions.com or visit us on Facebook or Twitter.
Caring Transitions is part of Strategic Franchising Systems. It is a member of the International Franchise Association, the Small Business Association's Franchise Registry, VetFran and Minority Fran.