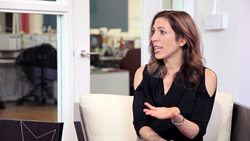 Linda Rottenberg is an awe inspiring example of an individual who does not take no for an answer, who has come up with a way to help entrepreneurs from around the world succeed, thereby creating more than 400,000 jobs and generating seven billion annually
New York, New York (PRWEB) May 12, 2015
Linda Rottenberg, named one of "America's Best Leaders" by U.S. News, and the co-founder and CEO of Endeavor, a non-profit organization that developed high impact entrepreneurship, is proud of the fact that at different times in her life she has been called crazy. In an interview with Jennifer Crumpton, correspondent for SarderTV, the independent educational media company, talks about how she got the nickname "la chica loca" for her belief in a mission to help entrepreneurs around the world. In the interview, Rottenberg talks about the success of Endeavor, its business model and her book, Crazy is a Compliment: The Power of Zigging When Everyone Else Zags.
"Linda Rottenberg is an awe inspiring example of an individual who does not take no for an answer, who has come up with a way to help entrepreneurs from around the world succeed, thereby creating more than 400,000 jobs and generating seven billion annually," said Russell Sarder, CEO of NetCom Learning and creator of SarderTV.
"Anyone who wants to become an entrepreneur or has been called crazy for pursuing their dream, will benefit from viewing this video interview with Linda Rottenberg," said Sarder.
Being the co-founder of a multinational organization which helps entrepreneurs with the big ideas no matter where they reside, Linda Rottenberg can take the grandiose down to the practical when talking about her favorite subject of entrepreneurship. In the interview for SarderTV, Linda Rottenberg talks about how she conceived the idea for her company, Endeavor, sitting in a taxi and drew up her business plan on a napkin in her parents kitchen. She offers practical advice for those considering starting a new business such as once you have taken the risk to start a new business then the first order of business is to start to de-risk even if this means keeping your day job while you get the business off the ground. Mitigating risk for those thinking of a business partnership means starting with what Rottenberg calls a legal "startup prenup" to ensure that there is a basic business understanding between potential partners. She also discusses why everyone whether they work for themselves or in a corporation need to have basic entrepreneurial skills in the current world and why this is so important to career success. Her passion and excitement for her business and for growing entrepreneurs comes through in the interview, providing an inspirational learning experience for viewers.
SarderTV offers provoking, educational and candid interviews so that new entrepreneurs and aspiring business people can learn from them. The database is part of the international Learning Movement created by Russell Sarder to help spread knowledge and inspire a passion in lifelong learning. Operating on the premise that motivated individuals can learn from the experience, the success and the mistakes of others, SarderTV provides a unique opportunity to see and hear influential personalities talk about the subjects that matter to them. Some of the past interviewees have included Ira Neimark, former CEO of Bergdorf Goodman, Susan Davis, CEO of BRAC USA, and Dan Hoffman, President and CEO of M5 Networks.
Don't miss this exciting and educational interview with Linda Rottenberg at SarderTV.
SarderTV seeking additional leaders for interviews
SarderTV is also seeking leaders to interview and is targeting leaders from Fortune 500 companies, and exceptional public figures like Bill Clinton, Oprah Winfrey, Jim Collins, Bill Gates, Warren Buffet and many more. According to the National Venture Capital Association, more than 30 percent to $600 million this year has been invested in Web-based education. For investors seeking an opportunity to participate in a multimillion dollar idea SarderTV presents an excellent investment and is actively seeking investors. Several investors have already expressed an interest in this innovative idea. Investors interested in becoming a part of SarderTV are invited to get in touch as well, contact us at here.
About Sarder TV
SarderTV is a learning channel that contains a series of exclusive educational interview videos from top leaders in their industries, as well as motivational videos encouraging our public to succeed in their personal and professional lives, and many more. Russell Sarder, CEO of Sarder TV, has interviewed a series of leaders, who have shared their experiences and how they were able to achieve their success. Some of the names that Sarder has interviewed are: Ira Neimark, former CEO of Bergdorf Goodman; Russ Edelman, co-author of Nice Guys Can Get the Corner Office, Dan Hoffman, and David Hershfield, SVP Online Technology at RedCats.