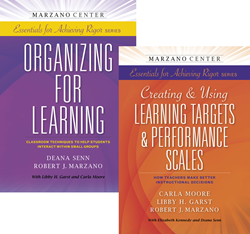 West Palm Beach, Florida (PRWEB) May 06, 2015
The ten-book Marzano Center Essentials for Achieving Rigor series is now complete. Learning Sciences International has released the last two books in the popular education series authored by Robert J. Marzano and his team of highly skilled and experienced education experts, and they are available for pre-order. The award-winning series was written to help schools and districts align instruction to meet the challenges of rigorous new standards.
Organizing for Learning: Classroom Techniques to Help Students Interact Within Small Groups offers instructional techniques to plan and provide practice sessions that help students interact productively within small-group settings. The goal is to improve learners' ability to participate in structured grouping, peer response groups, paired practice, partner discussions, and to reflect on learning as part of a group.
Creating & Using Learning Targets & Performance Scales: How Teachers Make Better Instructional Decisions guides teachers as they plan, scaffold instruction, and provide rigorous learning goals to meet all of their students' needs. Educators learn how to help students become more adept at understanding learning goals embedded in performance scales, and even to teach students how to generate their own learning scales.
Each book in the Essentials series provides practical classroom strategies for teachers to put to immediate use to move students toward the higher-order thinking skills required by rigorous new standards. The authors provide techniques to implement and monitor critical instructional strategies, recommendations for adapting lessons to ensure that all students understand the content, day-to-day examples, and lists of common mistakes to avoid.
Learning Sciences International, a leading provider of print, web-based, and on-site solutions for professional development and performance management in education, supports schools and educational initiatives in 11 countries, three provinces in Canada, and 40 states in the United States of America. The company currently serves 427 school districts; 5,575 school buildings; 311,000 teachers; and more than 4 million students in the United States.