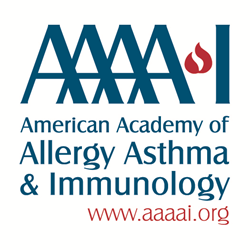 Milwaukee, WI (PRWEB) May 05, 2015
Researchers already know that asthma medication adherence is the cornerstone to improving patients' quality of life, reducing overall health care costs, decreasing morbidity and decreasing asthma-related mortality. Adult and pediatric patients, though, routinely stray from their controller therapies.
"Studies in adult and pediatric patients show that adherence to controller therapies vary, however, this is often unintentional," said lead researcher and AAAAI member Joyce Xiang Wu Lee, MD, with the Department of Veterans Affairs Greater Los Angeles Healthcare System.
In a clinical communication published today (May 5 - World Asthma Day) in The Journal of Allergy and Clinical Immunology: In Practice, scientists analyzed 264 patient questionnaires to determine medication usage and assess intentional versus unintentional nonadherence. When a patient deliberately misses his or her prescribed doses or chooses to skip refills, it is considered intentional nonadherence. Unintentional nonadherence usually happens when a patient forgets to take their medication or does not fully understand how to use it.
"Our study shows that both adult and pediatric populations, though mainly adherent or mildly nonadherent, are more likely to have unintentional nonadherence," Lee explained. "This stresses the need for health care providers to look at all possible causes of nonadherence when their medication refills are abnormal."
Co-author Henry Albert Wojtczak, MD, with the Naval Medical Center San Diego, adds that the Asthma Medication Ratio (which focuses on controller usage) or Rescue Index (which focuses on β-2 agonist usage) can alert physicians to nonadherent patients. While there are many barriers to both unintentional and intentional nonadherence, appropriate interventions can help. Establishing reminder systems, improving patient education and introducing emerging interventions (like text alerts, smart inhalers and web-based programs or apps) can help close the controller medication gap.
Asthma is a chronic disease that requires ongoing management to treat, prevent and control airway inflammation. Closing the adherence and prescription gap can prevent 9 million physician visits, 4 million emergency department visits and 1 million asthma-related hospitalizations annually.
Quick-relief medications may be used to provide temporary relief but should never take the place of controller medications. If an asthmatic patient relies on rescue relief more than twice a week, it indicates that the asthma is not under control.
An allergist/immunologist is a specialist who can help identify triggers, create asthma management plans and develop a treatment plan with fine-tuned medications and adherence strategies. More information on asthma, including an asthma action plan, is available at the AAAAI website.
The AAAAI represents allergists, asthma specialists, clinical immunologists, allied health professionals and others with a special interest in the research and treatment of allergic and immunologic diseases. Established in 1943, the AAAAI has more than 6,800 members in the United States, Canada and 72 other countries. The AAAAI's Find an Allergist/Immunologist service is a trusted resource to help you find a specialist close to home.