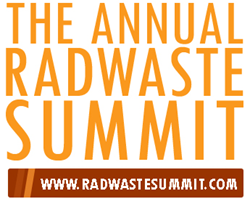 Washington, D.C. (PRWEB) May 07, 2015
ExchangeMonitor Forums and Publications welcomes Rob Smart as Program Manager for its nuclear-focused conferences, including RadWaste Summit, Decisionmakers' Forum, and Nuclear Deterrence Summit. This partnership is part of the initiative to continue serving government and private industry executives in the nuclear cleanup, commercial radioactive waste and nuclear weapons and deterrence markets.
Rob has served as a Senior Fellow with the U.S. Nuclear Infrastructure Council (NIC), based in Washington, DC, with responsibility for initiating NIC's Diplomatic Roundtable series on nuclear energy. The U.S. Nuclear Infrastructure Council is a national think-tank and advocacy group for new nuclear and US supply chain global engagement.
Previously, Rob held senior management positions with AREVA, the global nuclear energy company in Paris, and AREVA Inc. and Framatome USA, Inc. based in Washington, DC. Before joining AREVA, Rob worked for Bell Atlantic Corporation in Philadelphia, Brussels, and Arlington, Virginia, and for Honeywell Information Systems in Boston, Massachusetts.
Rob has an MBA degree from the Harvard Graduate School of Business Administration and an engineering degree from Princeton University. Rob and his wife live in Washington, DC.
"Following the success of the 2014 events, we are excited to welcome Rob, who has valuable insight that will prove beneficial for our attendees. Hundreds of key officials from government and industry gather for our events and we look forward to continuing the success moving forward with Rob's guidance," said Thomas Sloma-Williams, Group Publisher of ExchangeMonitor.
Visit http://www.exchangemonitor.com for details about upcoming events and available publications.
About ExchangeMonitor
ExchangeMonitor Publications & Forums, Inc. publishes professional newsletters and creates, manages and sponsors forums, colloquiums and workshops to facilitate an exchange of views and information among government officials, private industry executives, non-governmental organizations and other entities on critical national and international programs and policies.