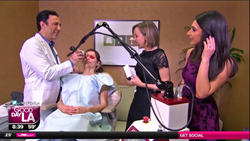 Los Angeles, CA (PRWEB) May 06, 2015
On April 27, 2015, Elle Magazine in article titled "16 Celebrities on Plastic Surgery," compiled quotes about cosmetic surgery from 16 celebrities. The list of celebs includes Jennifer Aniston, pop singer Iggy Azalea, and Gwyneth Paltrow. For the most part, each celebrity's quote indicates their sentiments about having plastic surgery themselves; only a couple of the quotes offer a statement about society and its expectations of youth and beauty. (see: goo.gl/wSomih)
"The quotes go back as far as 2004," says Dr. Simon Ourian, Medical Director of Epione Beverly Hills. "So I have to wonder if they accurately reflect the current opinions of these celebrities. It's one thing to say 'no, never' when you're 35. You may not feel the same way at 45."
According to the Elle Magazine article, several of the women quoted (fashion designer Karl Lagerfeld is the only man quoted in the article) freely admit to their plastic surgery history. Iggy Azalea and Kourtney Kardashian have no problem discussing their boob jobs and Gwyneth Paltrow has admitted to getting lasers. On the other hand, Jennifer Aniston, Emma Thompson, and Kate Winslet all staunchly oppose going under the knife.
"It's interesting to me that a few of the ladies quoted admitted to getting Botox, but only one time and they'd never do it again," says Dr. Ourian. "Of course, I can't say whether or not this is true or purely for public consumption. I can say that Botox, properly done, does not impact one's ability to express emotion."
Dr. Ourian has been a pioneer in laser technology and non-invasive aesthetic procedures including UltraShape, VelaShape, Restylane, Juvéderm, Radiesse, Sculptra, and CoolSculpting. These treatments are used for the correction or reversal of a variety of conditions such as acne, acne scars, skin discoloration, wrinkles, unwanted fat, stretch marks, varicose veins, cellulite, and others. More information about plastic surgery can be found on Epione's website.