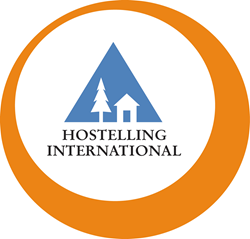 "With an influx of guests from all over the world taking advantage of our summer destinations, our hostels are buzzing with strangers turned friends, embracing their similarities and differences." -- Russ Hedge, HI USA CEO
Silver Spring, MD (PRWEB) May 06, 2015
Throughout May and June, 12 Hostelling International USA (HI USA) hostels are opening their doors for the season, welcoming a community of travelers from all over the world. Each hostel is as unique as the destination itself, from the rustic lodge in Woodford, VT, to the Spanish-style home in Fullerton, CA, to the reimagined lifesaving station in Nantucket, MA.
But what unites our collection of hostels is their ability to bring together diverse travelers from across the country and around the world in conversation and friendship. Whether you choose an outdoor adventure, quiet escape, or beach destination, you'll be immediately welcomed into the HI USA community of travelers who believe talking to strangers can be a very good thing.
"This time of year you can really see our nonprofit mission to create a more tolerant world accelerate," says HI USA CEO Russ Hedge. "With an influx of guests from all over the world taking advantage of our summer destinations, our hostels are buzzing with strangers turned friends, embracing their similarities and differences."
Outdoor Adventure
HI Harpers Ferry (now open) – Located where Maryland meets West Virginia and Virginia, this hostel offers a lodge-style hostel and space to camp with views of the Potomac River.
HI East Glacier Park (May 8) – Living glaciers, staggering waterfalls, and abundant wildlife makes a stay at this Montana hostel a unique wilderness and natural history experience.
HI Woodford Greenwood Lodge (May 20) – Swim, fish, boat, canoe, bike, and hike across 120 scenic acres, located in a quaint Vermont town just 3 miles from the Appalachian Trail.
HI Syracuse, Downing International Hostel (June 1) – Discover Tinker Falls and Letchworth State Park for hiking, horseback riding, and cycling, as well as whitewater rafting, kayaking, and hot air ballooning.
Quiet Getaways
HI Martha's Vineyard (May 15) – Awarded the 2014 friendliest hostel in the world out of more than 4,000 globally, this charming hostel is set in one of the country's most expensive summer vacation destinations.
HI Hyannis (May 22) – Located in the famed vacation town of the Kennedys, HI Hyannis is close to local artist shanties, shops, and restaurants in a serene Cape Cod setting.
HI Tibbetts Point Lighthouse (June 12) – Perched where Lake Ontario and the St. Lawrence River meet, this lighthouse-turned-hostel in Upstate New York is accessible to the Thousand Islands and Canada.
HI Fullerton (June 15) – Just 6 miles from Disneyland and 9 miles from Knott's Berry Farm, this Spanish-style house is convenient to Los Angeles attractions, yet outside the hustle and bustle of downtown.
HI Los Angeles South Bay (June 15) – Located in Angel's Gate Park, stunning views overlooking the Pacific Ocean and Catalina Island create a relaxing retreat away from the crowded streets of LA.
Beach Destinations
HI Nantucket (May 22) – Situated on a world renowned island, this former lifesaving station has a prime location a short walk from Surfside Beach and offers a complimentary waffle bar for breakfast.
HI Eastham (June 19) – Surrounded by 3 acres of wooded land, this traditional cottage colony features rustic sleeping cabins in a quiet, rural area near the nearby Cape Cod Rail Trail.
HI Truro (June 19) – This northern Cape Cod hostel is perfect for beach goers who still want to be close to Provincetown, restaurants, and shops, as well as cranberry bogs, bike paths, and nature trails.
Visit http://www.hiusa.org/Summer to learn more about these destinations and to make your reservation. For questions, contact HI USA Communications & PR Manager Netanya Trimboli at netanya.trimboli@hiusa.org or (240) 650-2104.
###
About HI USA
Hostelling International USA (HI USA) is a nonprofit, member organization founded on an enduring belief in the power of travel to foster a deeper understanding of people, places, and the world around. It's our mission to promote a dynamic community of global citizens who have the wisdom and humanity to actively make the world a better place. As the nation's leading hostel brand, HI USA hosts more than 1 million overnights annually, with guests from more than 100 countries. For over 80 years, HI USA has provided a network of affordable hostels in converted mansions, reinvented lighthouses, and historic urban buildings all across the country. Visit http://www.hiusa.org for more information.