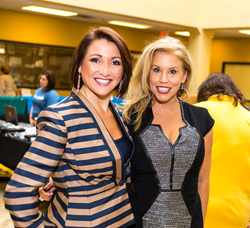 JTV show hosts have a respected reputation in the industry for educating customers.
LAS VEGAS (PRWEB) May 05, 2015
Jewelry Television (JTV), a television and internet home shopping network that focuses exclusively on the sale of fine jewelry and gemstones, is expanding its on-air talent with their show host apprentice program. JTV's recruiting team will be holding auditions in Las Vegas at the Courtyard Las Vegas South from May 29 – 31.
JTV is recruiting participants for their show host apprentice program. If chosen, show host apprentices will enter into an extensive training program on both product knowledge and on-air performance. JTV show hosts have a respected reputation in the industry for educating customers about jewelry and gemstones during their live broadcasts, aired in over 85 million households nationwide. The Show Host Apprentice program consists of training that will meet the precedent set by JTV and prepare new hosts for their role.
Candidates must be willing to relocate to Knoxville, Tenn., where the company's headquarters and studios are located. Interested candidates should meet the following criteria:

Have a passion for jewelry and gemstones, although extensive knowledge is not required upon hire.
Be highly self-motivated and driven to succeed in a sales environment.
Be charismatic, energetic and engaging with the at-home audience through an amicable on-air presence.
Possess the ability to talk on camera about JTV jewelry and gemstone products, unscripted for up to 4 hours.
Must be at least 18 years old and have a high school diploma.
Interested candidates must dress appropriately and bring a copy of their head shot and resume to their audition. Auditions will last approximately one hour and will consist of a short application process and a screen test. A JTV show host trainer will coach candidates on product knowledge prior to the screen test.
Auditions will begin at 10 a.m., Friday, May 29 and run through Sunday evening, May 31 at Courtyard Las Vegas South, located at 5845 Dean Martin Drive, Las Vegas, NV 89118. If you are interested in becoming an on-air TV host personality, please contact Nathan Brown at Nathan(dot)Brown(at)JTV(dot)com or (865) 692-6000 ext. 2231 to set up an appointment.
About Jewelry Television®
Jewelry Television® (JTV) is one of the largest retailers of jewelry and gemstones in the U.S., appealing to fashion-conscious women, jewelry-making enthusiasts and private collectors. The privately-held shopping network broadcasts high definition programming, 24 hours a day, seven days a week, to more than 80 million U.S. households. Committed to consumer education, the network employs numerous Graduate Gemologists and Accredited Jewelry Professionals. JTV.com offers the most comprehensive jewelry and gemstone Learning Library on the internet and is the third largest jewelry website according to Internet Retailer's Top 500 Guide for 2012.
###