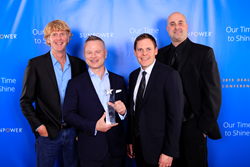 Chandler, Arizona (PRWEB) May 06, 2015
Sun Valley Solar Solutions, a Chandler-based solar installer and SunPower Commercial Dealer, has received the SunPower "Commercial National Rising Star" award for its outstanding performance in 2014.
"We are honored to be selected by SunPower as a 2014 'Commercial National Rising Star' award winner, and to be recognized for providing the world's highest efficiency solar systems and superior customer service to business owners across Arizona," said Curt Hilliker, VP of Commercial at Sun Valley Solar Solutions. "Partnering with SunPower ensures that we're able to offer industry-leading solar technology that's capable of delivering decades worth of electricity savings for our customers."
The "Commercial National Rising Star" award honors SunPower commercial dealers in North America that have demonstrated exceptional customer service, premier system design and installation practices, as well as expert solar knowledge and leadership. SunPower's best-in-class dealer program supports a network of more than 1,200 solar installers worldwide, with approximately 500 located in the United States.
"We congratulate Sun Valley Solar Solutions for their extraordinary performance in 2014, delivering a level of quality and commitment to excellence exceeding our expectations," said Howard Wenger, SunPower president, business units. "Sun Valley Solar Solutions is raising the bar by helping more customers achieve their energy goals with SunPower solar products and services, and we look forward to their continued success in 2015."
Notable Sun Valley Solar Solutions commercial projects from 2014 include a two-part SunPower system for Marc Community Resources, Inc., a nonprofit organization that serves individuals with physical disabilities and behavioral health challenges. The finished system is 284 kilowatts (kW) in size, and features more than 1,000 high efficiency SunPower solar panels. Also in 2014, Sun Valley Solar Solutions installed an 87-kW system for Gila River Healthcare that includes more than 320 SunPower solar panels.
For more information on adding solar to your business or organization, contact Sun Valley Solar Solutions at 480-689-5034, or visit http://www.svssolutions.com.
About Sun Valley Solar Solutions
Since 2006, Sun Valley Solar Solutions has been providing clean solar energy for residents and businesses throughout Arizona. The Chandler, Arizona-based company is accredited as a SunPower Elite Dealer by SunPower Corp., the world's leading manufacturer of high-efficiency solar cells and solar modules. Sun Valley Solar Solutions is also accredited and rated A+ by the Better Business Bureau, has won the Angie's List Super Service Award, is a member of the Solar Energy Industries Association, the Electric League of Arizona, the Arizona Solar Industries Association, the U.S. Green Building Council, and is an active member of LOCAL FIRST.
# # #