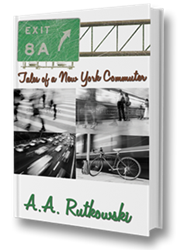 Alice Rutkowski's 'Exit 8A' is an excellent metaphor for life showing us that even something as mundane as a daily commute can become fulfilling and enriching when we are present, open and take the time to see the world a bit differently.
(PRWEB) May 06, 2015
Mother's Day and "Remarkable Connections" will be featuring Alice Rutkowski, Ph.D., author, entrepreneur, speaker and performance coach. Her new book, "Exit 8A, Tales of a New York Commuter," will be her focus. Alice is nicknamed "the people whisperer" for her uncanny ability to quickly read and respond to others. She has touched lives from all walks of life and is known for her warmth and humor. Featured on radio, TV and in newspaper articles, she brings life to her mega commute.
"Take Exit 8A and find your hero, face your fear, feel love, practice radical forgiveness, even save a life." Exit 8A turns Alice's commute on its head and gently coaxes the reader to do the same with theirs. Eighteen inspiring and true stories are seen through eighteen lenses on her twice daily encounters of New York traffic congestion and super-motion. Through these readers can see and respond differently to the dreaded "stress zones" mega-commuters face. In between cups of coffee, doses of varying aromas, or chasing internet connectivity on the bus, they'll likely be finding their own stories!
The Event will take place on Sunday May 10th at the Pebble Hill Interfaith Church which is located at 320 Edison-Furlong Road, Doylestown, PA 18901. They can be contacted at (215) 348-3428 or emailed at office(at)pebblehillchurch(dot)org. More information on Pebble Hill Interfaith Church can be found here http://www.pebblehillchurch.org/welcome.htm.
About Alice:
Dr. Rutkowski is an entrepreneur, speaker, and performance coach with an expertise in body language. She is known for her warmth and humor and has been featured on radio, television and in newspaper articles.