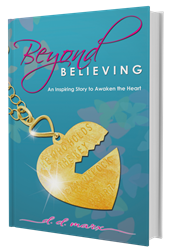 This book demonstrates that, even if faced with challenges in life, we can always hope for a better tomorrow. I recommend this book for those searching for meaning and looking for a fresh start.- Kelly Santana – 4 Stars Readers' Favorite
(PRWEB) May 06, 2015
Beyond Believing is the inspiring story of Olivia, a woman who struggles to discover a way to go on living and fill the void in her heart after her best friend Dan is tragically killed in a car accident. She is eventually able to stop searching for meaning all on her own and opens herself up to the world. It is then that Dan is able to come to her and guide her from beyond into a life filled with new experiences that she never expected to find, including a new love who heals her spirit like never before. Olivia, with Dan's help, is able to find a fulfilling life full of love that she never would have expected.
D.D. will be participating in a virtual book tour from April 27th-May 15th through iRead Book Tours. The book will be featured on a series of 30 blogs who will be reviewing and featuring the book and Author D.D. Marx. You can find the full list here http://www.ireadbooktours.com/blog---current-tours/book-tour-beyond-believing-by-dd-marx.
In addition to her iRead Virtural Book Tour, D.D. will also be doing a book signing at Anderson's Book Store. The book signing will be on May 23rd in Naperville, Illinois. Those interested in going can contact the shop to preorder their copy of Beyond Believing to have for Marx to sign at the event now! You can contact Anderson's Bookshop here: http://www.andersonsbookshop.com/contact.
D.D. will also be hosting a fabulous Ladies Night Out at "Fringe- A Boutique and Salon" in Lombard, Illinois on June 8th at 7pm. Those who wish to attend should contact the salon at 630-519-4027. The event is sure to be Beyond Beautiful. More info on the Fringe Boutique and Salon can be found here http://www.fringeoflombard.com/
D.D. Marx:
D.D. Marx has always been a social storyteller, always looking for new friends and new ways to tell stories. If friendship were a business, she would be a millionaire.
She graduated from the University of Dayton with a degree in Communication and spent some time working before entering the Second City Program in Chicago. Realizing that everything she'd done was pointing her in one direction, D.D. decided to become a writer, using her own experiences in life to inspire her debut project, the Beyond Series.
Beyond Believing is available to purchase from Author's Website, Amazon, and Barnes & Noble