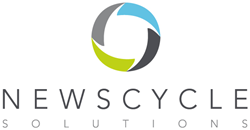 Bloomington, MN (PRWEB) May 06, 2015
Newscycle Solutions, the preeminent provider of software and services to the news media industry, will present the Global Innovation Awards at the International News Media Association (INMA) World Congress on May 12, 2015 in New York City. Newscycle is an INMA Partner in Business, and the company provides thought leadership and industry insights to more than 7,400 INMA members throughout the world.
The Global Innovation Awards reward excellence in media company innovation. The awards provide an opportunity for INMA and Newscycle Solutions to recognize the people, programs and processes behind the emerging innovation culture in the media industry.
"Newscycle is pleased to sponsor the INMA Global Innovation Awards," said Newscycle CEO Preston McKenzie. "The news media industry is undergoing radical change, and radical change requires radical innovation. Newscycle is proud to be a part of recognizing the companies and the people who are driving innovation and change in the global news media marketplace."
During the three-day INMA World Congress, which runs from May 10-12 at the New York Times TimesCenter, Newscycle executives and media delegates will discuss current industry topics, strategies and ideas including best practices, business model innovation, revenue models, redesigned newsrooms, and strategies for new growth and transformation.
As sponsor of INMA's 2015 Global Innovation Awards, Newscycle's Chief Revenue Officer, Dan Paulus, will present the awards to media companies that exemplify excellence in innovation.
"Global innovation is one of the highest strategic priorities for Newscycle Solutions," said Dan Paulus. "We sponsor these important awards because they acknowledge agility, teamwork and a transformational approach to the news media business. Newscycle embraces these same qualities in our global employees, who are dedicated to developing and delivering breakthrough technologies for thousands of media properties around the world, many of whom are represented at the INMA World Congress."
About Newscycle Solutions
Newscycle Solutions, which was formed by the combination of DTI, SAXOTECH, Atex AdBase and MediaSpan, delivers the most complete range of software solutions for the global news media industry, including news content management, advertising, circulation, audience, and analytics. Newscycle is a trusted technology partner serving more than 750 media companies with 8,000 properties across more than 30 countries on six continents. The company is headquartered in Bloomington, MN and has U.S. offices in Florida, Michigan and Utah; with international offices in Canada, Denmark, Germany, Malaysia, Norway, Sweden, and the United Kingdom. For more information, go to: http://www.newscycle.com.
Media Contact:
Lisa Speth
Newscycle Solutions
Marketing Communications Manager
lisa.speth@newscycle.com