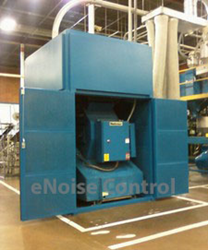 Westfield, Indiana (PRWEB) May 13, 2015
A plastics blow molding factory in South Carolina recently contacted eNoise Control about sound proofing noise being produced by its plastic granulator machine (also called a grinder or shredder).
Operators were experiencing exposure to high noise levels in excess of 98 decibels when the plastic scrap was conveyed into the throat of the granulator cabinet. The noise sources were located throughout the open plant floor near the blow molding machines. Excess trim from the plastic molding operation was being shredded and conveyed into collection bins for reuse in future molding operations.
eNoise Control assisted the client by conducting third octave band sound level readings inside the noisy plant. One of our experienced acoustic consultants conducted an acoustic feasibility study and offered an acoustic consulting report to the client. The client chose to implement our sound proofing enclosure option.
The sound control enclosure/cabinet was constructed of acoustic steel panels. These sound enclosure panels are 4" thick with a solid sheet metal skin, filled acoustic absorption, and protected by a perforated steel inner skin. The noise control panels rate STC-41 and was supplied with powder coated paint in the client's color choice.
The sound proof enclosure featured access doors, ventilation ports, and cut-outs for the grinder conveyor entrance.
Noise readings conducted after installation indicated that the noise had been reduced to below 80 decibels – well below the client's OSHA action level of 85 decibels.