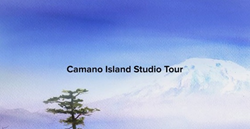 It's hard not to be inspired by Camano Island. Art lives here.
Camano Island, Washington (PRWEB) May 06, 2015
This Friday, May 8, the Camano Island Studio Tour will open to welcome an estimated 5,000 visitors to the tranquil artist community island over the course of its two-weekend event. For seventeen years, the Studio Tour has attracted art lovers and nature lovers drawn by the diverse visual arts and the unique beauty of Camano Island.
Since the art tour began, Camano Island's arts community has become a mecca for artists – may of whom have chosen art as a profession after retiring from their first job.
John Ebner, for example, this year's featured artist, quit his job as a factory representative for a window covering company after his wife signed him up for a watercolor course.
"I came home from that class and just couldn't believe how fun it was to put paint onto a wet piece of paper and watch it explode," Ebner explained. "I've been painting almost every day since then."
That class was over twenty years ago and today John Ebner is one of the most popular stops on the Camano Island Studio Tour.
Tour director, Roger Cocke, acknowledges that the art community on the Island has grown significantly since he moved in and opened his pottery studio.
"Some of the newer members of the Camano Arts Association and the Studio Tour came here specifically because of the arts community that has evolved over the past decade," Cocke noted. "The support from the Island community and neighboring counties has been tremendous and inspirational for artists like myself who have reconnected with their passion as a second career."
Visitors are encouraged to visit the 43 artists, 30 art studios and 3 art galleries featured on the Annual Tour. Operating hours are from 9am – 5pm, Friday – Sunday May 8 – 10 and Sat - Sunday May 16 - May 17. A short video of the tour, including information on both John Ebner and Roger Cocke can be found https://vimeo.com/126835781
"It's hard not to be inspired by Camano Island," Cocke added. "Art lives here."
##
About Camano Island Studio Tour
The Camano Island Studio Tour was established in 1997 by the Camano Arts Association. The tour attracts visitors from throughout the region and beyond, and has become the island's largest tourist attraction of the year. For more information or to download a brochure and map of this year's tour, visit http://www.camanostudiotour.com.