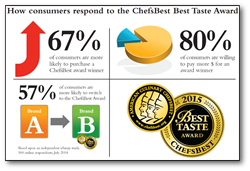 Consumers tell us they associate our award with quality and superior taste.
San Diego, CA (PRWEB) May 06, 2015
ChefsBest®, a chef-based judging organization, announced the results of an independent consumer research study. Instantly®, a mobile-minded research firm, conducted the online study which measured the effect of the ChefsBest Award on consumers. The metrics measured included purchase influence, price premiums, and brand switching intent.
"This is the third time over the past decade we have measured consumers' reactions to our Award, and the numbers continue to improve," said Lisa Liguori, Chief Executive Officer at ChefsBest. "Consumers tell us they associate our award with quality and superior taste."
The Instantly study reported that 67% of shoppers are more likely to purchase a product with the ChefsBest Award. 80% of shoppers are willing to pay more money for a product with the ChefsBest medallion, and 57% said that they are more likely to switch to a product wearing the award. All three metrics show the ChefsBest Award positively influencing them at the point of purchase.
The study also confirmed that consumers perceive products with the ChefsBest Award as tasting better, being higher in quality, and being the best in their category. Over 500 online respondents participated; they were screened for price sensitivity and met standard geographic distribution guidelines.
"If a product is wearing the ChefsBest Best Taste Award, then it's going to have award-winning taste," said Liguori. "Our sensory evaluations, or blind taste tests, are independent and free from outside influence. Only one brand in a category can be declared the winner, and we follow sensory evaluation guidelines to ensure that our panel of expert chefs identifies only the best tasting product. It is because of this rigorous methodology that Best Taste Award winners can wear our medallion and make substantiated claims like 'America's Best' and 'Best Tasting.'"
"We are delighted that more and more shoppers are using the ChefsBest medallion to guide their purchase decisions," said Melanie Tucker, ChefsBest Marketing Manager. "We believe that food should taste good, and we are proud to be leading shoppers to the best tasting brands."
About ChefsBest
American Culinary ChefsBest® (ChefsBest) is the independent, chef-based organization dedicated to identifying and honoring America's best food and food-related products. ChefsBest was founded in 2003 when it expanded its award portfolio to include both foodservice and retail awards. The current management is now positioning ChefsBest for future growth and expansion. The company is well known for its Best Taste Award which has been in market for more than a decade. The Best Taste food award can only be earned by leading brands that win a competitive sensory evaluation. ChefsBest Awards are trusted third party endorsements that guide consumers to quality products with award-winning taste. For more information visit http://www.chefsbest.com, http://www.twitter.com/chefsbest, and http://www.facebook.com/chefsbest.