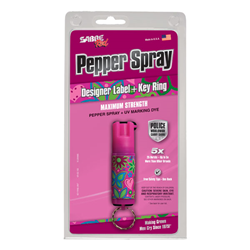 (PRWEB) May 07, 2015
A colorful departure from traditional pepper spray models has recently been launched by SABRE, a company known for its innovative, industry-leading pepper spray and personal safety products. The new product features eye-catching hearts, flowers and butterflies while boasting the same high-quality pepper spray inside the canister. Key benefits of the product are:

Superior value - up to 5x more spray than other brands (approximately 25 bursts)
Protection at a safe distance (10-foot range)
Key ring provides a practical way to carry your product at all times
Attractive design created with the female customer in mind
The Designer Key Ring Pepper Spray model was inspired by SABRE's previous success setting new trends in pepper spray. "We introduced pink to the pepper spray industry in 2008 and it quickly became the industry's number one selling pepper spray," explained David Nance, SABRE CEO. "Aside from producing the best pepper spray in the industry, we also want to make sure we provide our customers with products they'll enjoy carrying on a day-to-day basis. Our new designer label was picked over two dozen other design options and our marketing research indicates this will be a top-selling SABRE item!"
The product, retailing for $9.99, is available for purchase at http://www.sabrered.com.
ABOUT SABRE - Security Equipment Corporation
SABRE, family owned and operated with four decades of experience, is the leading brand in personal and home safety. The company's law enforcement grade pepper sprays provide consumers with the same superior quality chosen exclusively by the New York Police Department, Los Angeles County Sheriff's Department and numerous other law enforcement agencies worldwide. SABRE also has a line of consumer personal alarms and home security systems; learn more at http://www.sabrered.com.
Want to know more?
If you're interested in buying SABRE products on a personal or distributor level, fill out this form and we'll contact you as quickly as possible.