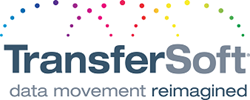 By reimagining data movement, TransferSoft's technology team has invented and applied for patents on enterprise class technology that not only increases the speed and efficiency of data transfer but also operates on the data during transmission
Los Angeles, California (PRWEB) May 06, 2015
TransferSoft® Inc. today announced the company has secured its first round of VC funding and launched its HyperTransfer™ data movement technology suite.
The enterprise class embeddable software enables applications to more reliably, efficiently, and cost effectively transfer and transform data as it moves between systems and locations. Available now for integration into OEM systems and software, the HyperTransfer technology moves files at line speed, independent of file size or depth of directory nesting. It is easily embedded in all platforms including Linux/UNIX/AIX, Windows, and MAC OS X. Since it runs as a service on two or more systems, there's no limit to the number of services that may be linked together or the number of simultaneous data movement operations easily creating a fully integrated data movement environment. Frequently, through HyperTransfer's PowerPort™ feature, no unique code needs to be written to embed it in existing OEM products or applications.
"Currently data centers and OEMs are forced to integrate costly data transfer software and appliances that buckle under the weight of data transformation operations," said Allan Ignatin, president, CEO, and cofounder of TransferSoft. "By reimagining data movement, TransferSoft's technology team has invented and applied for patents on enterprise class technology that not only increases the speed and efficiency of data transfer but also operates on the data during transmission. Without loss of transmission speed, HyperTransfer provides essential real time capabilities to disaster recovery, Big Data, and Cloud applications while transferring the data, including checksums, data compression, encryption, statistical differencing, and deduplication. All of these features operate at full bandwidth, independent of latency introduced by the distance between the source and destination services."
Mr. Ignatin, bringing his extensive experience in storage and data movement as founder and CTO of companies since 1990, including Peripheral Vision and Tape Laboratories (acquired by Crossroads Systems), has been leading the experienced TransferSoft team. Testing with some of the industry's largest OEMs for the past 9 months has verified HyperTransfer's performance claims far in excess of any other technology on the market today. This early success has attracted seasoned investors including Peter Harvey, past founder of BusLogic and CDS, and Labrador Capital to invest $3 million in the first round of funding.
"We examine the technology, people, and market impact on potential customers when we invest and after significant due diligence, TransferSoft has top scores in all three key factors," added Harvey. "Important legacy implementations are failing at an alarming rate. Simply put, if you can't get data into and out of the data center or Cloud efficiently, or you can't cost effectively move databases and files into Big Data analytics engines, the implementation fails. HyperTransfer has created a new market paradigm. For example, when the TransferSoft team demonstrates that they can de-dup a file on itself by 60% on the first transmission while compressing the rest – all in real time; we know we have a winning team producing technology no other company can come close to matching today."
Data Movement Reimagined
TransferSoft's mantra of "Data Movement Reimagined" can be better understood by several examples of how HyperTransfer software can significantly reduce data volume on the network:
1. Speed: In addition to not resending unchanged data, new data to be transferred is matched to previously transferred data chunks eliminating the need to transfer all or part of a new file or object;
2. Reliability: MD5, SHA-2, or SHA-3 checksums algorithms run at line speed up to 10 Gb/s with no performance loss;
3. Security: Inflight encryption using either industry standard AES or TransferSoft proprietary RVX algorithms operating with no loss of performance at full line speed;
4. Efficiency: Transfers can begin instantly upon first file creation write (or directly to the stream) allowing files to be completed at the destination within seconds of closing at the source;
5. Small and Large Files: Moves files at line speed independent of file size or depth of directory (e.g. with a 10GbE connection, a 650 GByte file will transfer at 1 GB/s. On the same 10GbE connection, a directory structure of 10,000,000 small files (e.g. 64KBytes in size), in 16-deep nested folders, will also transfer at 1 GB/s).
"The HyperTransfer technology suite is available for OEM integration now," continued Ignatin. "OEMs can quickly and cost effectively incorporate this industry leading technology into the next release of their solutions and also readily make it available to their installed base of customers".
Ignatin concluded, "Our HyperTransfer technology empowers the data storage and networking OEM community to reimagine data movement solutions for their enterprise IT customers. HyperTransfer's tremendous efficiency allows OEMs to use less costly hardware without any sacrifice in performance, reliability and data integrity – a win-win for all."
About TransferSoft
TransferSoft is focused on "data movement reimagined" for enterprise IT departments' most critical Big Data, Cloud, and Disaster Recovery applications. The company's HyperTransfer data movement technology suite enables OEM's, without writing any unique code, to integrate unsurpassed speed, efficiency, reliability, and security into the data transmission system of their solutions. Features that are often turned off in competitive technology to meet performance SLAs, operate at full bandwidth, independent of latency introduced by the distance between the source and destination services, including checksums, data compression, encryption, statistical differencing, and deduplication. For more information, visit http://www.transfersoft.com or call us on 310-909-7788.