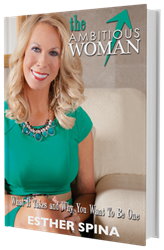 Esther is the leader that I have no reservations about following in Ambit or anywhere else Esther says, 'come go with me.' - Michael Bolden Senior Consultant at Ambit Energy Independent Consultant
(PRWEB) May 06, 2015
Since her release, Esther's book, The Ambitious Woman, was ranked number 2 on INC's top 10 best business books of 2014. This prestigious honor is accorded to authors who impact the business word significantly through their writing. Spina shares this list with authors such as Judy Robinett, Anthony Robbins, Tom Koulopoulos, Dan Keldsen and Jeff Sutherland. For a complete list of this year's winners, see http://www.inc.com/geoffrey-james/10-best-business-books-of-2014.html. She also held the number 2 spot on Amazon in the 'Woman in Business' category.
Esther Spina has recently hosted two Ambitious Woman Conferences, one in the Southwest United States which was held March 27-29 and 300 woman were in attendance. The other one was held on April 24-26 in the Northeast United States with 400 woman in attendance. Through her book and her speaking engagements, Esther continues to help women live empowered lives and reach their goals by creating win-win situations in every relationship. You can find out more about The Ambitious Woman herself here http://estherspina.com/.
About Esther Spina:
Along with being a valued public speaker and motivator as well as an author, Esther Spina is also the founder of Ambitious Women, a group that provides support through annual conferences for women in business.